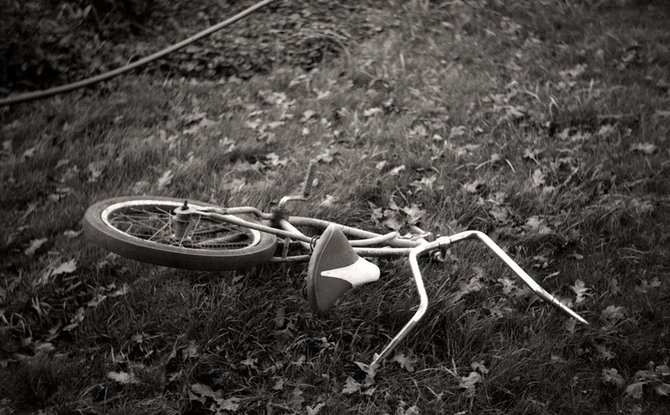 My first camera was a simple, manual camera with a normal view, 55mm lens. It was cheap.
I used it to photograph anything and everything. For a time I stuck with black and white film, and felt myself an artist. This bicycle is a good example of my work from that time, except that it is pretty good, all things considering. Like any budding artist, I created a lot of meaningless work of poor quality.
It was expensive stuff, film, and you had to pay twice. Once to purchase the roll of film, and more to have it developed and printed. As a hobby it was far too costly for me to justify, and I didn't want to become a "starving artist." I decided I would have to make a career of it.
I figured I might as well dream big, and decided to be a nature photographer. Nature photography is no easy thing, especially with a 50mm (normal view) lens, but I made extension tubes out of toilet paper tubes, their insides painted black. This grasshopper is an example of the results. How I managed to get my lens to within a quarter inch of a grasshopper basking on a blade of grass in full sun, I have no idea.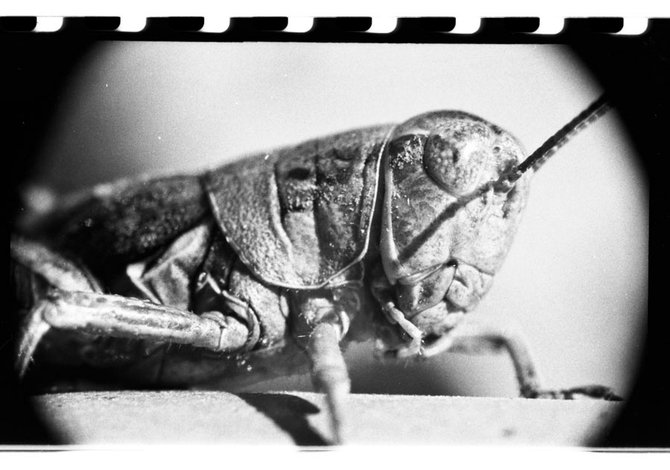 I photographed dragonflies at a local pond as well. It was there that I noticed a little green heron that had made the pond its home. It was quite unafraid of me, but spent all its time on the far shore. One day I pumped up a little inflatable raft and hauled it up the creek to the pond, about a half mile from my home. It was hard work, through the underbrush and over several fences.
I went out on a little irrigation dock, floated the raft, and was about to climb in when I realized I had forgotten to bring a paddle. I decided to use a stick, so I set my camera down on the dock and went to get one. As I was about to step off the dock, my foot came down on the shore end of the board on which I had set my camera. It was an old dock, and the far end of the board sprung lose, catapulting my camera into the pond with a "plop." In my mind's eye I can still see the perfect, slow motion arc it made before splashing down. I fished it out, removed the film and set the camera in the sun to dry, as I had read about doing in event of just such a crisis.
Depressed and dejected, I got a stick to paddle with, flopped into the raft and drifted out into the pond. Lying on my back in the bottom of the raft, blown along by a light breeze, I eventually came to rest against the far shore. Above my head, not ten feet away, was the little green heron, staring at me with great intensity.
It would have made an amazing photograph, but alas, even after it dried the little Fujica was toast.
It is my firm belief that young people interested in photography, with coaching (or a good book) and good equipment, can create amazing work. As an adult I have found it to be true. It can, however, be hard on cameras.