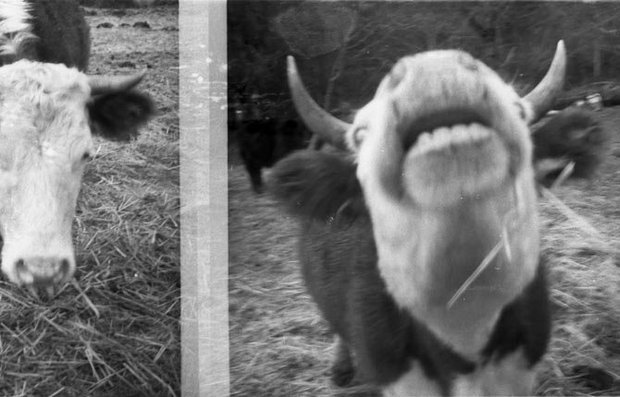 I've been working recently on "A Rancher's Life," an ongoing series in the Chronicle, and as I listened to the bellowing cattle at a Maupin area ranch I was reminded of the very first roll of film I ever shot and developed.
It was eighth grade, I was taking an elective class on photography. At that point I already planned to be a photographer "when I grew up" and was thrilled at the chance to learn more about it. We each shot a roll of black and white film, and the teacher explained the process: In total darkness, the film was loaded onto a reel, then placed in an light-tight can that allowed for fluid chemicals to be poured in and out. There were three chemicals: developer, stop bath and fixer, and the film was left in each for a prescribed amount of time.
I borrowed my mother's 126mm instamatic, shot the film and took it into the darkroom. In a light-tight closet, I had to smashed the plastic cartridge in order to remove the exposed film, then I had to separate the film from a paper backing and thread the film onto a reel, all in pitch black darkness. At the sink in the lighted common room I put in the developer and started the timer. When the time was up I began pouring the developer out through the slots in the lid, which allowed the developer to gurgle out without exposing the film to light. It was a slow pour, and a fellow student grabbed the can from my hands, said "It would be faster if you do this," pulled off the top and dumped it out in a splash. I wasn't quick enough to stop him, he ignored my "No!" and of course the film was ruined. Stupid bully. Dad bought another roll of film, I loaded it into moms' instamatic and set about shooting another roll of black and white film.
The instamatic was simplicity itself. A scratched and dim viewfinder showed how the subject was framed, exposure was automatic and only worked in daylight, and focus was a switch that toggled between "near" and "far."
As I wandered about looking for pictures, I walked down to my granfather's pasture fence and climbed onto the gate, perching on the top bars. A little steer came up, white faced and friendly: He was soon to be mine, when I had pulled enough tansy weed and whatnot to earn him. I took his picture, set the focus to "near" and when his head came up to give me a "kiss" I snapped another.
Working alone at the darkroom sink... the rest of the class had moved on to printing their pictures... I developed the film and was thrilled to see that, this time, I had pictures.
They were not very good pictures. "Near" didn't focus close enough, the little plastic lens was not very sharp, the shutter was slow. But I was successful, and my path was, though imperfectly focused, certainly visible on the strip of black and white cellophane: That blurry little steer eventually grew up, and I traded him to my dad for a Pentax 35mm camera with a 50mm lens, my first "real" camera.
I was on my way.