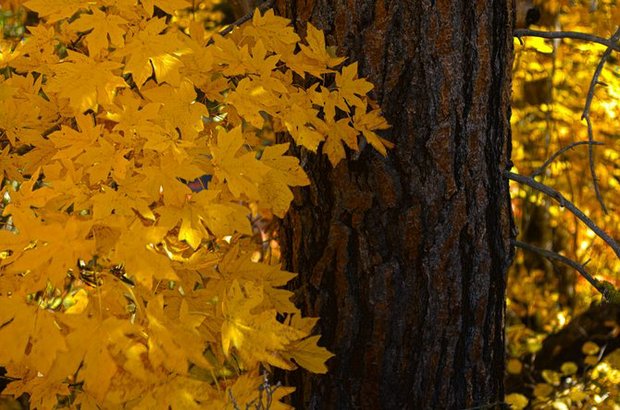 Leaves of a big leaf maple are brilliantly yellow along Mill Creek Road south of The Dalles, pictured here against the trunk of a ponderosa pine. Copyright Mark B. Gibson

Big leaf maples are one of my favorite trees, with their, huge swooping buds in early spring, leafy umbrellas in summer and vibrant yellow leaves in the fall. Their large helicopter-style seeds are wonderfully entertaining as well.
In Wasco county, these maples can be found primarily along rivers and creeks, like this one on Mill Creek road south of The Dalles. Another great place to enjoy them is old Highway 30, between The Dalles and Rowena... just don't let them distract you overly much as you navigate along the cliff edge.
The first challenge in capturing this photograph was finding a view that included something strong enough to break the pattern of the leaves, isolating them and add visual contrast. The red bark of the ponderosa pine works well in this regard, and adds a strong vertical line. With leaves to the edges of the photo, the feeling is that they go on forever.
The second challenge was capturing the mix of sunlight and shade. To do this, I placed the camera on a tripod and bracketed three exposures, over and under the averaged reading given by the camera meter. These images were then combined using High Dynamic Range software. I adjusted the tones so that the leaves were bright and colorful against the darker colors and shadows of the trunk.
The final challenge was how to cheat realistically: A dead branch angled down through the center of the pine trunk, distracting from the photograph and breaking up the composition. This isn't a news photo, and I could have broken it off, but a steep bank, a no-trespassing sign and a tangle of poison oak discouraged that idea.
Instead I erased the branch using the 'clone' tool in a graphical image manipulation program. This is something I don't do as a newspaper photographer, as it is a manipulation of reality. In my own work, I allow myself more freedom provided the resulting image is a 'story that could be true.'