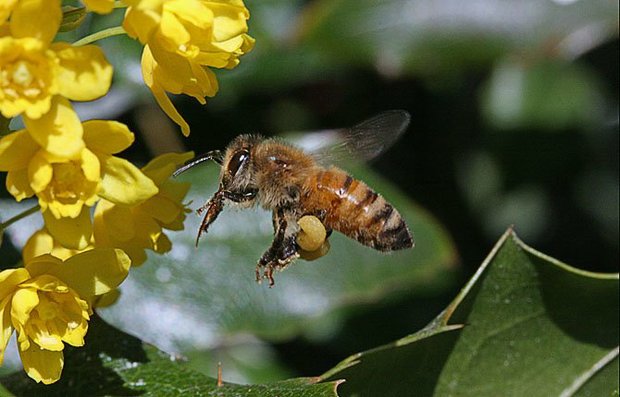 A honey bee loaded with pollen approaches an Oregon grape flower in a The Dalles garden. Photo courtesy Jason Hinkle, The Dalles.
Spring is a great season for photographers... Flowers are blooming, the sky is full of puffy white clouds against a rich blue, spring rain is bringing out the fresh green of new growth... and the insects are homing in on local gardens and wildflowers.
This shot was taken and submitted by Jason Hinkle of The Dalles. He writes,
"Been goofing around teaching myself how to better use a camera. Using a 60mm macro lens and a fair amount of patience walking around the flower beds, I finally caught a great shot of a Honey Bee in flight, loaded down with pollen. He was on some Oregon grape."
I suspect getting that close to a bee with a 60mm macro lens requires more than a "fair amount of patience!" My own macro is a 90mm, which increases the working distance, but I can still feel the back-draft of the wings when I get close enough for a shot.
Fortunately, a bee on the hunt for nectar and pollen is pretty single-minded and doesn't pay a lot of attention to a photographer.
One of the first macro shots I took as a young boy was of a grasshopper. I had a copy of "Field Photography, Beginning and Advanced Techniques" by Alfred Blaker and a cheap 35mm SLR with a 50mm lens. In his chapter on macro photography, Blaker discussed using extension tubes, simple light-tight tubes mounted between the lens and the camera. "You could make one from a cardboard tube with the inside painted black," he laughed.
So I cut a tube from a paper towel down to a length of 50mm, which would give me one-to-one or life-sized magnification on the negative. I painted the inside of the tube black and mounted it between the lens and camera with electrical tape. I calculated exposure based on full sunlight and film sensitivity, transferred the settings to camera and went outside.
The working distance was under 1/2 an inch, but somehow I managed a "head and shoulders" shot of a grasshopper. In full sun, clinging to a stem of grass. I still have the little 4 by 5 inch print somewhere, and it still amazes me that a 12 year old kid could get that close to a grasshopper long enough to take its picture. I don't know how long it took to get the picture, but I had a horrible sunburn afterwards.
I suspect capturing the natural world in photographs brings out the best in all of us!
Have you taken a great photograph recently in Wasco, Sherman or Klickitat counties? Send it to me via email using the "contact" button at this link, or upload the photo to your favorite photo sharing site and send me a link! I'd love to see it and may run it in a future post. Please give your full name, location, tell me about the photograph and include "photo" in the subject line. Copyright notice in the metadata or file name is recommended, submission implies permission to use the photograph in the context of this blog.