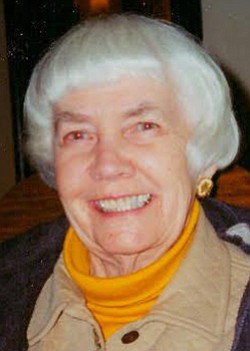 Helen Louise Meves
The Dalles, Oregon
October 5, 1924 - May 9, 2017
Helen Louise Meves, 92, a longtime resident of The Dalles, Ore., died Tuesday, May 9, 2017, at The Springs at Mill Creek, surrounded by her family.
She was born Oct. 5, 1924, in Prineville, Ore., the daughter of Carl and Katie (Kirby) Farrand. The family, which included her older brother Bob and younger sister Wilda, later moved to Redmond, Ore., and eventually back to Prineville. Helen graduated as salutatorian from Crook County High School in 1943. She then attended Linfield College on a scholarship, and received a bachelor's degree in 1948.
Helen married Hans "Bud" Meves, the brother of her college roommate, in Portland on Nov. 19, 1948.
Their daughter, Barbara, was born a year later. After some time off to enjoy motherhood, she returned to school and received a master's degree in education from the University of Oregon in 1954.
Despite being legally blind since birth, Helen worked in Oregon as a high school English teacher for three years, and as an elementary school teacher for 30 years, teaching in Portland, Umatilla, Tygh Valley, Wamic, Grass Valley and at Petersburg School near The Dalles. The last 16 years of her career were spent in The Dalles Public Schools, mostly at Colonel Wright Elementary.
Helen was a member of the Calvary Baptist Church, where she sang in the choir and taught Sunday School for many years. Her strong faith was an integral part of her being. She had a beautiful voice, performing frequently as a soloist throughout her life (starting as a child). After retiring, she sang hymns and gospel weekly at Columbia Basin Care and later at The Springs at Mill Creek, continuing until the spring of 2017. She enjoyed traveling and had visited every state in the United States as well as Canada, Mexico and most European countries. She liked to read and do crossword puzzles, and especially loved spending time with her four grandchildren, whose lives were influenced and greatly enriched by her loving care.
Helen is survived by daughter, Barbara Bennett of Eugene; grandchildren, Gretchen and Garth Bennett, Bend; Forrest Bennett, Sisters; Austin Bennett and wife Priscila, Redmond; four nephews and two nieces. She was preceded in death by her husband of 62 years, Bud Meves; her parents; sister and brother.
Private burial will be at IOOF Cemetery in The Dalles. A celebration of life will take place at 2 p.m. on Sunday, June 4 at The Springs at Mill Creek.
Memorial contributions may be made to Talking Book and Braille Services c/o Oregon State Library, 250 Winter St. NE, Salem, OR 97301.