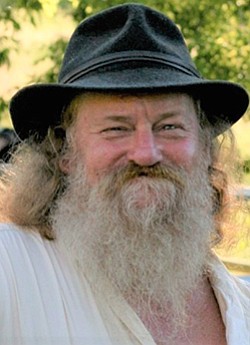 Donald Carter
The Dalles, Oregon
June 16, 1960 - May 14, 2017
Don Carter passed away May 14, 2017, at Columbia Basin Care Center following a stroke Jan. 5, 2017.
He was born June 16, 1960, in Vancouver Wash., to Gary and Phyllis Carter. He was the second of three children. He attended school in Wishram, Wash., and graduated in 1978. After graduating, Don went to work for Burlington Northern Railroad where he worked for 23 years.
He spent his retirement years enjoying his hobby of woodworking; he was very skilled and creative in designing wonderful pieces for his family and friends. Another area of his life that brought him tremendous enjoyment was watching his son Joshua grow up. There wasn't a baseball game that was missed, or a scout event that Don
wasn't helping with. This culminated in Josh becoming an Eagle Scout. Don was a proud father.
As Don's friends will remember, one of his greatest talents was throwing rowdy parties. There wasn't a summer that went by without all of his friends and family gathering for a raucous party, much to the neighbors' dismay.
Don is survived by his wife of 27 years, Steffanie; son Josh; step-daughter Shanon Saldivar, spouse Daniel; grandchildren Electra and Scarlet; step-son Craig Marquardt, spouse Maria; grandchildren, Hannah, Abranita, Rebekah, Grace, Dulaney, and Shiloh.
He had a huge heart and loved his family and friends fiercely. This was often shadowed by his tough exterior. He will be missed by all.
There will be a memorial service 2 p.m., Thursday, May 18, 2017, at Wishram Community Church 340 Main Street, Wishram, all are welcome.
There will also be a rowdy, raucous celebration of life June 16, his 57th birthday, details and location to be announced.
Arrangements are under the direction of Anderson's Tribute Center Celilo Chapel.Visit www.AndersonsTributeCenter.com to leave a note of condolence for the family.