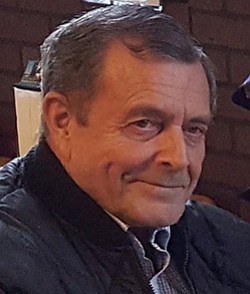 Dwayne Cobb
The Dalles, Oregon
October 20, 1942 - May 4, 2017
Dwayne Cobb, 74, longtime resident of The Dalles, Ore., passed from our world on May 4, 2017. Dwayne was the firstborn son of the late Virgil and Naomi Cobb of Merrill, Oregon.
He was born October 20, 1942, in Montrose, Colorado. He attended and graduated from the public schools of Merrill, Ore., in the class of 1960. He also was a graduate of Oregon Institute of Technology.
Dwayne married his high school sweetheart, Maxine Burns, who preceded him in death in 2004 after 40 of marriage. He is survived by two daughters Monica C. Brettschneider and Robin D. Cobb; grandchildren Jacob and Libbie; and brothers, Charles, Seattle, Wash., and Curtis, Grants Pass, Ore.
Dwayne enjoyed a good game of pool or snooker and was an active member of The Dalles Eagles Lodge, along with being a member of the Moose Lodge. As a result of his generous spirit and desire to contribute to local society, he coordinated the annual Eagles golf tournament, which raised funds for local high school scholarships for many years.
He leaves many friends, including Brigitte Felton. He quietly departed this life Thursday at his home in The Dalles.
His wonderful 'shooting star' life will forever be cherished in the lives of his daughters, brothers, family, friends, and all who had the pleasure of knowing his generous soul.