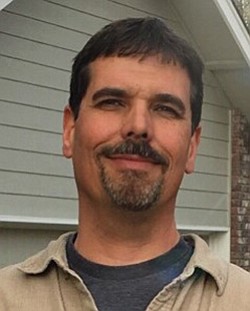 Rip Van Winkle
March 24, 1971 - March 24, 2017
Rip attended school in The Dalles, Ore., throughout his youth. He loved playing linebacker at The Dalles High School under Coach Dan Wheatley and made second team All State. Rip served in the United States Navy, receiving an Honorable Discharge. After returning home, he began dedicating his life to helping others and learning about everything! He was so smart and shared his knowledge with those he cared about. He enjoyed playing pool at Zim's and hanging out at the American Legion on second street. Rip Van Winkle not only had an unusual name, he also had an extraordinary life.
One of his proudest achievements was making it through "Hell Week" in the Navy Seal program. He lived the lives of 20 men. Just a few of the jobs he had over the years was a bouncer, tree faller for Bonneville Power Administration, landscape artist, contractor, plumber, electrician, and he held a CDL license. He could operate any kind of power equipment and was a builder, fixer and installer of swimming pools, irrigation lines, HVACs, pumps, cars, motorcycles, and so much more. He donated a huge part of his labor and vast knowledge to family, friends, and charitable organizations. He was the guy who could fix and design anything. He called himself the Fix It Guy.
One of Rip's greatest loves was motorcycles, riding fast and free. He treasured his biker brothers. Rip was also an amazing self-taught artist, specializing in pencil, oils, and sculpture with any kind of media. He was an artist extraordinaire! His art is indicative of his life. He was one of a kind. He was an incredible light that shone brightly in this world his entire life. He was an extremely kind and generous person who gave of himself, expected nothing in return, and gave his very best all of the time.
He was the defender and protector of his little sis and mother.
There will never be another Rip Van Winkle. We miss you, Rip.
He leaves behind his mother, sister, niece, daughter, stepfather, grandmother, aunt, life partner and her three daughters, many more relatives, his best friend since childhood-Bob, and many other close friends, as well as hundreds of other people whose lives he touched. He will never be forgotten.
We hope you can join us in honoring him and his life. A memorial ride will be held May 21, 2017, with everyone meeting at 10 a.m. at the Albany, Ore., Walmart parking lot and beginning at 10:30 a.m. Rip's Celebration of Life will be held May 21, 2017 at the Scout Lodge in Philomath, Ore., at 4:30 p.m. Please feel free to contact his sister, Mariah Van Winkle, with any questions 541-829-1950.
"Whatever you are doing now, and wherever life is taking you, I wish you the best." Rip Van Winkle