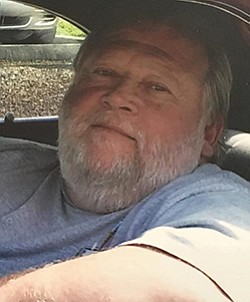 James J. Faught
July 12, 1951 - May 3, 2017
James' parents, JC and Dorothy Jean Faught, preceeded him in death. He leaves behind his sister, Sharon Mimaki; brother, Greg; daughter, Angela; grandchildren, Nichoal, Ashley, Cheyenne, Briana, Nathaniel, and James; four great-grandchildren; extended family and friends in The Dalles, Ore., and Dallesport Wash., communities.
Jim grew up in California, he loved hot rod and roadster racing, which he shared with his father. He retired from Burlington Northern Railroad after 30 plus years.
A celebration of life will be held at a later date.