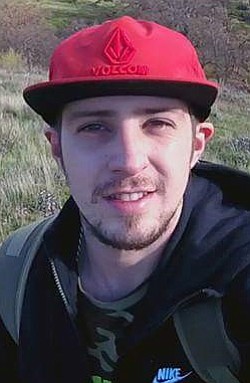 Stephen Caleb Woody
December 8, 1989 - April 27, 2017
Stephen Caleb Woody was born on Dec. 8, 1989, in Hood River Ore., and left us far too soon on April 27, 2017. He was 27 years old.
He was preceded in death by his brother, Thomas Warren Farmer, just 20 days before.
Stephen grew up in Hood River, Ore., Odell, Ore., and White Salmon, Wash. He also spent some time in Ventura, Calif.
Stephen was an amazing and talented individual since birth. He loved music and received his first drum set at the age of 2, and his first guitar at the age of 7. He was a musician, singer and songwriter. He loved being out in nature and enjoyed hiking, skating, surfing, and many other activities. He had unique artistic abilities and loved to sketch and paint. He had an infectious laugh and bright smile. He was funny and made people laugh without even having to try.
He is survived by his mother, Elizabeth Farmer and husband, Arnol A Farmer Jr.; father, Phil Woody; his sister, Raquel (Sissy); nephew, Danny; niece, Sareni Garcia; sister, Angela and husband Jason; nephews, Jason Jr., Jackson, and Joseph; nieces, Jacqueline, Julianna, Jadamaria, and Jenavieva-lily; sister, Alicia McCombs and husband Jeremy; nephew, Andrew; niece Mercedes; brother, Arthur Farmer and Heather; nephew, Luke; niece, Cassidy; and many other aunts, uncles, cousins and friends.
His family and friends will miss him, but have all been blessed to have known and been a part of his life. We will continue to love life in his memory.
A celebration of life with will be held at 4 p.m., Sat., May 6, at Truth Tabernacle 1331 Tucker Road Hood River, Ore. A catered reception will immediately follow.
Visit www.AndersonsTributeCenter.com to leave a note of condolence for the family.