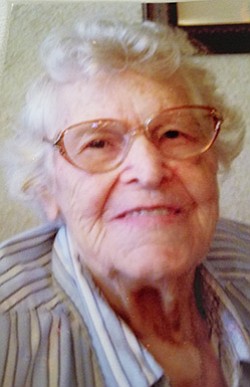 Naomi Evangeline Lewis
May 8, 1920 - January 30, 2017
Naomi Evangeline Lewis was born in Dufur, Ore., May 8, 1920.
She graduated from Wapinitia High School in 1937. Naomi was married to Robert (Bob) J. Esmay until he passed away in July 1974. She was also married to Charles (Pete) F. Peterson until he passed away in January 1999.
During Naomi's life, she was a telephone operator in Portland, Ore., and a pharmacist's assistant at Payless Drug in The Dalles, and Portland, Ore.
Naomi is survived by her daughter, Barbara (John); step son-in-law Joe Sherber (Mary); and daughter-in-law Taiko Kudo (Terry); two ex-daughters-in-law, Lynda and Elizabeth (Jerry). Naomi was preceded in death by sons; Jerry Esmay (Jan. 1941 - Dec. 2016) and Terry Esmay (Oct. 1946 - Nov. 1989); and step-daughter-in-law Mary Sherber (Oct. 1946 - July 2006). Naomi was a loving grandmother to 11 grandchildren and 13 great-grandchildren. She passed away Jan. 30, 2017.