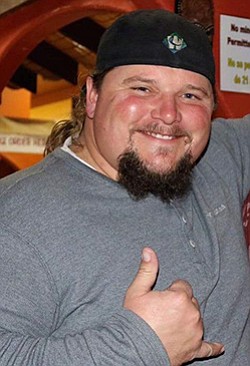 Joshua Michael Parke
The Dalles, Oregon
March 2, 1981 - July 22, 2017
Joshua Michael Parke, 36, from The Dalles, re., passed away unexpectedly while scuba diving in the Hood Canal. Josh was born in Tacoma, Wash., to Vincent Parke and Shirley (Rohrbaugh) Johnson. From the first moment Josh's dad held him he didn't want to let him go. Josh slept his first few days cuddled in his father's arms. Josh graduated from Wahtonka High School, in The Dalles in 1999. He played football four years of high school.
He joined the Army right out of high school and served two years stationed out of Germany. He married his high school sweetheart and the love of his life, Melissa Ann Opitz. They were wed in Westminster, Md., in 2000. Together they had three amazing boys, Adrian 15, Lance 13, and Wyatt 8. Josh and Melissa first settled in Maryland and also made homes in Washington and Oregon before coming back to The Dalles. Everywhere they went they made lifelong friends. Josh was a traveler. He spent years traveling across the country with his brother Jeremiah. In recent years, he traveled to Thailand with Melissa to visit her father. Every summer, the family would go to their favorite home away from home in Avon, Minn., called The Lake House. Going on this vacation was something that Josh looked forward to. He was a hard working family man who never slowed down. He spent a lot of time in "Idahome" with his father, brother, sons and family. He always made sure to provide for his wife and kids. Josh was a protector who was always there for his family and friends.
Josh's passions include: Adventure seeking, traveling, riding motorcycles, fishing, hunting, collecting, helping others (recently received Citizen Life Saving Award for performing CPR and saving someone's life), but most of all spending time with his family and friends. Josh was an ordained minister and performed many marriages for friends and family. He was also nominated for Heavy Equipment Operator of the year at his place of employment, Waste Management Connections in The Dalles. Josh was always positive, happy, outgoing, lived larger than life…He was everyone's own personal counselor.
Josh was the oldest of 4 siblings, Jeremiah, 33, Wesley, 28, Breanne, 20, and stepsisters Janice, 36 ,and Amanda, 34. He is survived by his wife Melissa; sons Adrian, Lance, and Wyatt; his mom Shirley and dad Vince (Karen); siblings Jeremiah (Erin), Wesley (Lisa), Breanne; grandma Neggie (Jim); grandpa George; grandma Sharen; Aunt Carla; Aunt Patty; Uncle Doug; and many cousins, nieces, nephews, and friends, as well as his his two beloved dogs, Neela and Poseidon.
Celebration of life will be held Saturday July 29, 2017, at The Dalles Eagles 2006 W 7th St. The Dalles, at noon. In lieu of flowers, the family would like donations to be made to Josh's boys. An account has been set up at US Bank 401 Washington St. The Dalles­­. The account number is 153668699736.
Josh loved hard, played hard, and left us with great memories and laughs that we will always cherish…