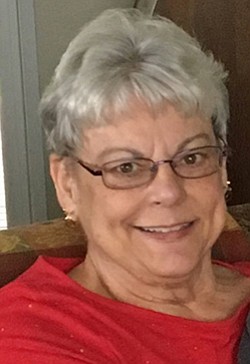 Barbara Kay Olson Hickerson Kiser
The Dalles, Oregon
January 16, 1945 - July 3, 2017
Barbara Kay Olson Hickerson Kiser 72, was born on Jan. 16, 1945, in The Dalles Ore., and passed away at her home in The Dalles on July 3, 2017.
Barb attended the one room schoolhouse in Petersburg for a time. She then moved to Mill City Ore. in 1952, and graduated from Mill City High School in 1962. She attended Oregon State Universtiy and graduated in 1966. She became an educator and taught elementary education in El Paso Texas, the Salem area and Culver Ore.
Barb went to work for Jefferson Trial Court as a clerk and transitioned to trial court for the State of Oregon. She held this position for 31 years.
Barbara loved to participate in baseball, volleyball, running, cross country, and skiing. She lettered two years in crew at Oregon State. One of her favorite crowning achievements was receiving $125 from Lou Bean for naming the park near Bean Drive and Ashwood in Madras, Ore. This park has Little League fields, soccer fields, and other sports activities.
Barbara was also very active in the Mid-Columbia Car Club, where she was editor of the club newsletter for four years. She was the driving force and coordinator behind many of the club's social events. She was also the drive and inspiration for her husband John as he held many positions in the club.
Preceding Barbara in death were her parents, Jim and Edith Olson; brother-in-law, Bob Bailey; sister-in-law, Judy Kiser; and infant brother, James Jr.
Barb is survived by sons, Jeffery and wife May Hickerson of Dixon Mo., Matt Hickerson of Hillsboro Ore.; bonus daughter Jennifer (Kiser) McBride and husband Shane; grandsons, Malakai and Kaiden McBride of Redmond Ore.; sisters, Nancy Bailey of Indio Calif., Sandy and Husband Mike Guttormson of Oak Park Calif. and their son Toby and wife Julie; great-niece Aundra and great-nephew Owen of Jackson Hole Wyo. She is also survived by her loving husband, John Kiser of The Dalles, and her faithful dog Abby.
Memorials may be made to Multiple Sclerosis Society of Oregon (in Jennifer McBride's name), Heart of Hospice, Home at Last Society, and Dale Coles Scholarship fund at Sherman High School in Moro Ore.
A pot luck celebration of life will be held on Sept. 9 at 1 p.m. at the shelter at Sorosis Park in The Dalles. Bring memories and stories of your favorite times with Barb.