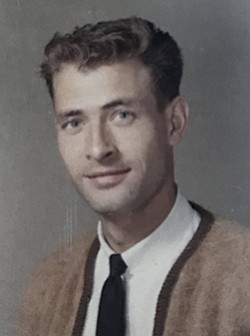 LeMoine "Lee" Emery Bittinger
Lyle, Washington
April 4, 1939 - July 18, 2017
LeMoine (Lee) Emery Bittinger of Lyle, Wash., passed away peacefully July 18, 2017, in his home surrounded by family. He was 78 years old. Lee will always be remembered as a wonderful husband, father, enthusiastic elk hunter, and a passionate basketball coach.
Lee is survived by his wife, Ellen; stepbrother, Bob Kirtchen of Florence, Ore.; children, Cloy Bittinger of Prineville Ore., Steve Bittinger of Hermiston, Ore., Nathan Bittinger of Hermiston, Ore., Cara Ammons of Toledo, Ore.; stepchildren, Kim Ward, and Jodi Stevenson of Ridgefield, Wash; 11 grandchildren; two great-grandchildren.
Lee was born on April 4, 1939, in Missoula, Mont., to wonderful parents. From an early age he spent time in the mountains around Plains, Mont., with his uncles and cousins hunting and fishing. Upon graduating from high school, Lee joined the United States Navy (1957–1961) where he served our country on a flight crew as an Aviation Electronics Specialist attached to Patrol Squadron 42 stationed in the Sea of Japan (East Sea).
After leaving the Navy, he received his bachelor's degree in education from the University of Oregon and his master's degree in education from Portland State University. Lee spent his professional career teaching and coaching at the high school level. His fondest memories are of the time that he spent with his children, students, athletes and the community in which he lived and taught. Lee was constantly a friendly face to everyone he met, willing to always help and commit his time to improving and bettering those around him. Over the years, he taught and coached in Union, Ore., (1967-1969), Gervais, Ore., (1970-1973), Arlington, Ore., (1975–1988) and The Dalles, Ore., and Lyle, Wash., school systems (1992-2004).
Services will be held Saturday, July 29, 2017, at 2 p.m. at the Covenant Christian Church, 2630 E 18th St, in The Dalles. All friends and family are welcome to attend and celebrate Lee's life.
Memorial gifts can be made to: Heart of Hospice Foundation in memory of LeMoine Bittinger, 2621 Wasco Street Hood River, Ore. 97031 541-396-1942, www.HeartofHospiceFoundation.com