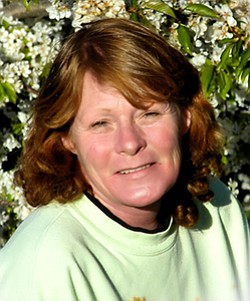 Dawna May Rose
July 24, 1962 - June 23, 2017
Heaven received another angel, Dawna May Rose. She left this world June 23, 2017, surrounded by family in Seaside, Ore. Dawna was born to Vernon and Madge Lauzon on July 24, 1962, in Hood River, Ore. She is preceded in death by both parents and sisters, Lynette and Mary Katherine.
Dawna grew up in Dufur, Ore. She lived and traveled many places. She served in the United States Army as a patient administration specialist, received the Sharpshooting Badge (Rifle M-16) and Expert Qualification Badge (hand grenade). She was a participant in Relay For Life for many years. She enjoyed working with people, had various jobs; truck driver, waitress, receptionist, The Dalles Cherry Growers and caregiving for an assisted living facility.
She loved the outdoors; camping, fishing, flowers, gardening, bird watching, butterflies, BBQ's, picnics, Sunday drives, walking on the beach, visiting state parks, pigs, cats, Yahtzee, Monopoly and spending time with family and friends.
She is survived by her husband, Wayne Lee Rose of The Dalles, Ore.; stepson, Christopher Andrew Rose; granddaughters, Kailyn and Kylee; stepdaughter, Jenel and husband Pat Jones; grandson, Aberen; ex-husband, Robert Cliff Post; son, Matthew Alexander Post and significant other, Kailee Lafferry and Peanut; daughter, Amber Dawn Post and significant other, James Peck; grandsons, Ayden Cole England and Austin Phoenix Peck; sisters, Sandi, Sonya, Vicki, Lawna and husband Steve; brothers, Paul and wife Debbie, Walter, Larry; numerous aunts, uncles, nieces, nephews and cousins.
We would like to thank the Celilo Center in The Dalles, and a special thanks to Ann Rust, the Lower Columbia Hospice team of Astoria, Ore.; Special thanks to Cyndi, R.N. Diane and Diane B. for their care, friendship, love and compassion.