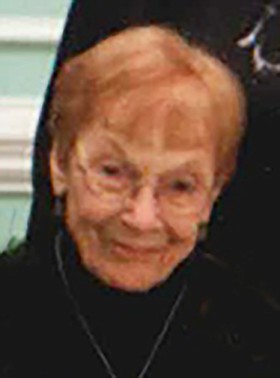 Dorothy Irene Newman Michaelson McKee
March 2, 1920 - July 30, 2017
Dorothy Irene Newman Michaelson McKee was born in Orchard, Neb., on March 2, 1920. The only child of Laverne and Anna (Schmidt) Newman. She grew up on a farm during the Great Depression and graduated from Page High School in 1937.
Dorothy met her first husband, Everette (Bill) Michaelson, while still in high school and they married on June 14, 1941, just as World War II was beginning. Their only daughter, Patricia (Patty), was born March 8, 1943, while Bill was preparing to go overseas with the Army. He deployed 10 months later and was part of the D-Day invasion. Dorothy and Patty lived with her parents and moved from Nebraska, to Nyssa, Ore., while Bill was overseas . Dorothy worked for a bank executive and an attorney as a secretary during the war.
After Bill's return from Europe, Dorothy settled into doing what she loved most, being the best mom and caring homemaker for her family.
Dorothy was an excellent seamstress and made most of Patty's school clothes and many, many dance recital costumes, as well as formals for high school dances and Patty's wedding dress. She also liked gardening and painting landscapes in oils. She was a prolific letter writer and had beautiful penmanship.
Everyone looked forward to a letter from Dorothy.
Bill passed away in 1978 (heart attack) and in 1981 an old friend whose wife had died 10 years earlier started calling on her. She and Jack McKee married in March 1982, and a new life began. She moved to The Dalles, inherited two adult sons and their families, and made new friends. She and Jack had nearly 20 years together before his death in 2000.
In 2001, she moved again, this time to Boise, Idaho, to be closer to her daughter. She made her home in their daylight basement. When she moved in she said, "I won't be here long," but she stayed for nearly 17 years. As her eyesight and hearing dimmed and she could no longer write letters she said, "Why am I still here? Oh, I know, I'm too good for hell, but not good enough for heaven." No Mom, God just knew that we still needed your sweet, spunky little self with us a little longer.
Dorothy is survived by her daughter, Patricia Bergin; grandchildren, Kimberly Vallette and Michael Thiel; four great-grandchildren, Shanarra and Trenton Vallette, and Amanda and Mikie Thiel; and two great-great-grandchildren, Anowenn Griffith and Trinity Thiel.
Dorothy is also sur-vived by Jack's two sons, Terry and Rod McKee, who grew to love her being their "other mom," Rod's wife, Georgia, and children, Katie (Grace and Ellie), Cody, Kelli (Lily) and Kristi; Terry's wife, Anne, and children, Megan, Molly and Mike. She will also be lovingly remembered by Candice Bergin and Wes Bergin and his family and Neal Vallette. And finally, the last of her many kitties, Sugar.
She was preceded in death by her parents, also husbands, and one sweet baby boy, great-grandson, Samuel Josh Vallette.
Our family wants to thank All Care Health So-lutions for the loving care they showered on mom during her last year, espe-cially Lance, Robert and Susie. She loved all three of you. I also want to thank A Caring Hand Home Healthcare for sending Vee to help me through those last three nights. She was a gift.
We all love you mom. sweet dreams. I'll see you soon. Big hugs.
In lieu of flowers, please contribute to a favorite charity.