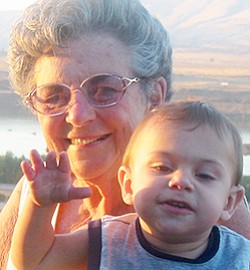 Otilia "Tillie" Rose Vann
The Dalles, Oregon
January 4, 1928 - July 21, 2017
Otilia "Tillie" Rose Vann passed away peacefully at home after a long struggle with COPD surrounded by family and friends July 21, 2017.
Tillie was born in Glendive, Mont., on January 4, 1928, to John and Rose Loeken. She lived in Moro, Ore., during her marriage to George Geiser. She then met and married the love of her life, Billy Vann, in The Dalles. They often wintered in Yuma Ariz., enjoying life in general and especially fishing.
Tillie worked all her life; retiring from her position as office manager for Doug Sawyer's State Farm office. She also volunteered for various organizations in The Dalles, nearly achieved a Life Master in Bridge, and loved to garden.
She is survived by her daughter, Gloria Geiser of Portland, Ore.; stepson Vince Vann (Barbara) of The Dalles; brother Will Loeken of Bellevue, Wash.; sisters, Jan and Joan of Seattle, Wash., Irene Hayes of Palm Springs, Calif., Marion Robbins of Oro Valley Ariz.; five grandchildren; 10 great-grandchildren; one great-great-grandchild and many friends. She was preceded in death (28 hours) by her husband of 44 years Billy Vann; as well as her mother and father; son, Russell Geiser; and sisters, Dorothea Putney and Mildred McAdams.
A celebration of life will be held at The Discovery Center 5000 Discovery Drive The Dalles, Oregon 1 p.m. August 19, 2017.