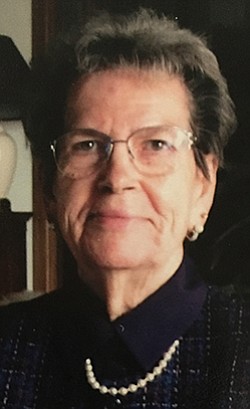 Ina Holman
Hood River, Oregon
April 27, 1929 - July 28, 2017
Ina Holman of Hood River, Ore., died Friday, July 28, 2017, at Flagstone Assisted Living. Ina had moved to The Dalles, Ore., from Brookside Manor in Hood River in April of this year. She was 88 years of age when she passed away due to complications of Alzheimer 's disease and age.
Ina Hardenbrook Holman was born April 27, 1929, in Prineville, Ore., to Ernest Hardenbrook and Ruth (Saunders) Hardenbrook. Much of her adolescence was living within economic hardships of the Great Depression and this shaped her perspective on life and the true value of community service. Ina grew up in Prineville, Ore., amongst loving aunts, uncles and grandparents and numerous cousins. She graduated from the Crook County High School in 1948. She had five children with her husband of over 50-years, Chet Holman.
They began their life together in Prineville, in the early 1950s, moving to Los Alamos, N.M. in 1956, then to Dodson, Ore., and then finally settling in Hood River in the summer of 1965.
Ina was a loving homemaker, taking care of her busy family. She also engaged in many craft activities, which ranged from making her children's clothes to taking classes in haberdashery, shoe making, and even toll painting. Ina was always drawn to the rewards and social interactions within the communities where she lived. Her energies in working with others brought lasting social benefits to the Mid-Columbia area. Her work in the Head Start program assured its benefits reached out to thousands of children throughout Hood River and The Dalles. As the director of Hospice of The Gorge for 14 years, she laid the foundation for what has become a standard for palliative care for the terminally ill across the Mid-Columbia communities from Cascade Locks to The Dalles and White Salmon. Finally, after retiring in 2001, Ina continued to support her community by working to deliver "Meals on Wheels" to home-bound individuals and tirelessly working within the "FISH" Food Bank of Hood River. Ina was an active member of the Soroptimist International of Hood River, working energetically to improve the lives of women and girls in the Mid-Columbia and throughout the world.
Ina enjoyed camping with family throughout her life and the joyous gatherings of good friends, high school classmates, and family. She dearly loved to sing! Whether accompanied by the family's player piano or participating in community choirs, such as the Sweet Adeline's and in church. As a member of the Sweet Adeline's, she enjoyed the various practices and performances. In retirement, she enjoyed the joyful camaraderie of the ladies while engaging as a member of the "Red Hat Society." For Ina, life was worth reaching for.
Mrs. Holman is survived by sons, Phillip Holman of Washougal, Wash., Richard and his wife, Vikki Holman, of Cedar Crest, N.M.; daughters, Sheila Holman of Haines, Ore., and Juli Twidwell and her husband, Dan Izzo, of The Dalles, Ore.; grandchildren, Stephani Twidwell Lane, Ranay Twidwell Guifarro, James Holman, Erika Holman, Christina Holman Trail, Sidney Holman, Allison Holman, Hannah Holman Frank; and six great-grandchildren, Ivy and Dorian Holman, Ember Holman, Amelie Guifarro, Layla Smetana and Simon Trail; brothers, Gerald Hardenbrook, Prineville, Ore., Milo Hardenbrook Tucson, Ariz.; sister, Nedra Sunderland of Portland, Ore.
Mrs. Holman was preceded in death by her son, Sidney Holman, in 1977 and her husband in 2002.
A graveside service will be held at 2 p.m. Friday, September 15, 2017, at Juniper Haven Cemetery in Prineville, Oregon. A memorial service will then take place at 2 p.m. on Saturday, Sept. 16, 2017, at Anderson's Tribute Center in Hood River.
Memorial contributions may be made to the Hospice of the Gorge, c/o Anderson's Tribute Center, 1401 Belmont Ave, Hood River, Ore., 97031.Visit www.AndersonsTributeCenter.com to leave a note of condolence for the family.