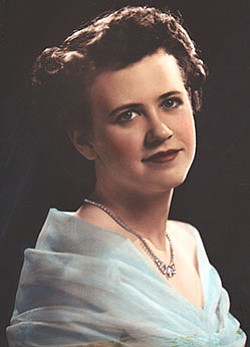 Avis Noleta Hay Hunt
January 22, 1935 - April 14, 2017
Avis was the youngest of five children of Charley and Esther (Hamm) Hay. Her father died of a heart attack when she was seven years old. Her mother later married Omer Brittain, and moved to Tygh Valley, Ore., where Avis attended a one-room schoolhouse. Avis unknowingly met her future husband in grade school, when young Neil Hunt was trailing sheep from Mount Hood. Avis met Neil again years later at Maupin High School; she says "he chased her till she caught him," and they were married after her graduation June 14, 1953. The newlyweds made their home in Criterion, Ore., and along with the lambs and calves came five young Hunts in quick succession.
About 10 years later they moved to the Fax Ranch in Rice, south of The Dalles. This opened up opportunities for Avis and the family. Avis was an extension officer/teacher and 4-H sewing leader for years. She taught cooking, canning, sewing, and gardening. She demonstrated use of surplus foods for economical family meals for the county extension service. She loved music and played the piano, treating each child to piano lessons and instruments in band. She also found time to make stained glass, oil paintings, and bake cinnamon rolls and other delicious desserts which brought her and her family much joy. Her kids' letters won her Mother of the Year in a radio contest in the 1970's.
Avis loved kids and when her youngest went off to grade school she persuaded Neil to try foster parenting she found her calling. She cared for 49 foster children over the years and one was adopted by a Hunt child. Several of the foster kids kept in touch with Avis, and remain a part of their family to this day. In 1980, she helped Neil build their beautiful Dufur home, which she designed- large enough for the kids and grandkids!
Community service was important to Avis. She volunteered at the hospital and Petersburg School.
She taught Sunday school at Dufur Christian Church for 20 years, was a Deaconess, and sang in the choir.
Once she retired from foster parenting, she kept busy by working several jobs: caregiving, a stint at McDonald's where she enjoyed mentoring the teenage workers, and at The Dalles Cherry Growers where she once saved the life of a choking coworker.
Avis is survived by her husband of nearly 64 years, Neil; son Alan; daughters Debra, Connie, Julie, Sherri; Paul, John, Tracy Boeder; 11 grandchildren; and three great-grandchildren.
A memorial service will be held at Dufur Christian Church on April 29, 2017, at noon. There will be food and refreshments downstairs after the service. Donations may be made to the Dufur Christian Church Missionary Fund 315 Harrison St. Dufur, Ore., 97021.