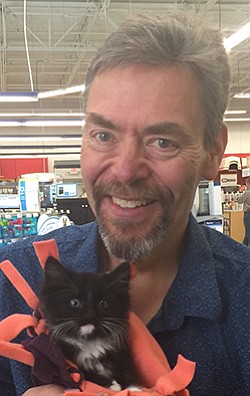 Adam Lee Marin Commander
The Dalles, Oregon
July 10, 1964 - March 21, 2017
Adam Lee Marin Commander, resident of The Dalles, Ore., kicked up his heels and stepped into heaven on March 21, 2017, following a long battle with congestive heart failure. Born Adam Lee Marin on July 10, 1964, in Weimar, Calif., he graduated from Mountain View High School in Bend, Ore., in 1983.
Adam graduated from Seattle Pacific University in 1989 with a bachelor's degree in Communications and Business Management. Adam was very active in student government, and was especially proud of being editor of The Falcon, SPU's student newspaper.
Upon completing his degree, Adam was hired by PACCAR, Inc., as an Information Technology architect and developer for their subsidiary, Kenworth Truck Company. Adam received Kenworth's "Over Drive" award, the company's highest recognition for outstanding performance and dedication. He worked at Kenworth headquarters in Kirkland, Wash., from 1989 to 1998.
Adam joined Austin Sierra Consulting, Inc., in 1998 as a senior database architect and developer. The company was a preferred IT vendor to Microsoft in Redmond, Wash.
In 2003 Adam accepted an offer to become a full-time Microsoft employee. During his 11 years at Microsoft, Adam exceeded expectations as senior developer in MS Finance IT, MSIT and the Legal & Corporate Affairs IT departments. Adam received the company's Gold Star award for outstanding contributions to the MSIT department.
Adam was well known in the MSIT community for enthusiasm and dedication to mentoring his employees, bringing his work group home for lunch and Star Trek movies, streamlining the supervision of his work groups in India and China, and his innovative approach to database development.
Adam also earned a reputation as a skillful manager who inspired efficiency and higher employee satisfaction among those who directly worked for him.
An entrepreneur at heart, Adam wrote the code for several successful database businesses, including ShazamWare Data Systems, Inc. Each of his creations was spawned by a very creative reaction to someone telling him a task couldn't be done.
Looking for a new career challenge and an opportunity to be closer to family, Adam and Lisa moved to The Dalles in 2014. Adam joined the IT department at Mid-Columbia Medical Center as a senior developer. He continued his tradition of bringing co-workers home for lunch. He enjoyed his all too brief tenure with MCMC.
Westminster Chapel (Bellevue, Wash.), Meadowbrook Church (Redmond, Wash.), and Gateway Church in The Dalles all benefitted from Adam's gentle spirit and leadership. He taught Bible studies, applied his technical expertise to, and assisted with, Sunday morning worship. Adam credited his faith for sustaining him, and he encouraged others to seek the peace he found.
Adam changed his name to Adam Marin Commander following his marriage to Lisa Commander in 1994. They were married at Shumway Mansion in Kirkland, Wash. Adam and Lisa celebrated 23 years of marriage on March 19, two days before he stepped into heaven. He leaves behind his best friend and greatest fan.
He is survived by brother Louis (Arleen) Marin; sister Kathleen (Brian) Russell; nephew Jayden Cypress; in-laws Jerry and Loretta Commander of The Dalles; and countless friends. He was preceded in death by his mother, Carolann Norris, and Napoleon, his beloved feline companion of 19 years. Adam's other feline friends will greatly miss walking all over his keyboard while he tried to work at home, especially Dashiell and Sassy Lola.
A celebration of his life will be held May 10, 2 p.m., at Gateway Church in The Dalles, and May 13, 11 a.m., at Meadowbrook Church in Redmond, Wash.
In lieu of flowers, please consider a donation to Adam's favorite charity, Samaritan's Purse/Operation Christmas Child.