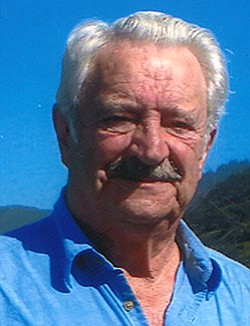 Jerry Vincent Kelly
The Dalles, Oregon
June 10, 1931 - April 6, 2017
Jerry Vincent Kelly, beloved husband, brother, father, grandfather and friend, passed away on April 6, 2017.
His wife Dona and brother, Leonard, preceded him in death. He is survived by his three daughters, Cinda Davis, Linda Bronkey (husband Gary), and Kim Gibson; grandchildren, Danny McCleary, Amy Moy, Scott Gibson; great-granddaughters, Ashley and Mia; and his special companion and friend, Patty O'Hollaren.
Jerry was born, raised and lived in The Dalles, Ore., his entire 85 years. He was the son of Virgil and Eva Kelly. He married Dona Ingram, his high school sweetheart. Farming was his life, while raising three daughters with Dona.
Jerry was a very proud, strong, and independent man who loved The Dalles, and the Gorge always referring to it as "God's Country!" He was involved in many civic activities throughout the years, in the town he loved so much. In recent years, he has been volunteering for Meals on Wheels.
A private ceremony will be held with family. Contributions in Jerry's memory may be made to The Dalles Meals on Wheels, 1112 W 9th Street, The Dalles, Ore., 97058. E-mail mowaa.org
He is so loved, and will be greatly missed!