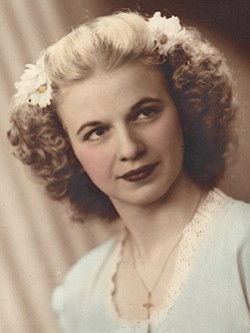 Ellen Lewis Friedline
Hillsboro, Oregon
April 30, 1926 - April 3, 2017
Ellen Lewis Friedline, a resident of Hillsboro, Ore., died on April 3, 2017. She was 90 years of age.
Ellen was born on April 30, 1926, in Puyallup, Wash., and was the daughter of Cecil and Clara (Bowlby) Lewis. She grew up in Yakima, Wash., and graduated from Yakima High School in 1944.
On April 2, 1950, she married Reilly Delbert, "Del" Friedline in Yakima.
In 1970, Ellen and Del moved to Oregon, residing first in The Dalles and later in Tigard for many years. Ellen was a homemaker who raised four children.
She also spent hundreds of hours volunteering for Meridian Park Hospital, Loaves and Fishes, Tigard Senior Center, the Young Republican Women and the Discovery Gift Shop. She also volunteered with her church, Tigard United Methodist. In 2011, she was the recipient of the "Treasure of Meridian Park Award" for over 30 years of volunteer service. In 2012, she moved to Hillsboro.
Ellen was a kind, giving person who enjoyed socializing with her friends and helping others. She had a sly sense of humor and always remembered birthdays and anniversaries by sending cards to friends and family members.
Ellen was a collector. She collected shoes, post cards, Coca Cola merchandise and bells. She enjoyed shopping and trips to McDonalds, where she would order a hamburger and two apple pies. Her greatest joys were her grandchildren.
She is survived by her children: Catherine (husband, Kenneth) Case of Portland; Connie (husband, Robert) Stefani of Portland; Curtis Friedline of Hillsboro; and Colleen (husband, Kirk) Held of Hillsboro; along with eight grandchildren; Alysha, Angela, Jason, C.R., Reilly, Regan, Ryder and Raven. She was preceded in death by her husband, Reilly, and her sister, Janice.
A private family gathering will be held at a later date. Contributions may be made in memory of Ellen to the American Heart Association or Bonnie L. Hayes Animal Shelter in Hillsboro, Ore. Donelson Funeral Chapel is handling the arrangements.