Tuesday, September 26, 2017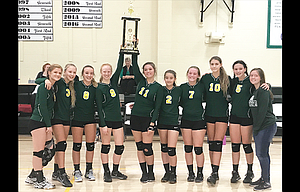 MAUPIN – Hoisting trophies is a regular thing in Maupin these days.
No. 8-ranked South Wasco County went 4-0 and captured their second straight tournament title at the Redside Invitational held Saturday in Maupin.
"We had a really solid tournament," said SWC coach Donna Barton. "The team kept a steady pace no matter who I put in and just went out and won."
SWC beat every team in two sets, by a 12-point margin, starting with a 25-12, 25-17 win over Stanfield.
The Lady Redsides then beat Condon-Wheeler (25-9, 25-18), Riverside (25-9, 25-11) and Damascus (25-14, 25-14).
In the four matches, SWC swerved at a 93-percent clip (182-195), led by Allie Noland (53-54), Jenna Wraught (15-15) and the trio of Kyrsten Sprouse, Ana Popchock and Jada Myers (15-16).
At the net, Myers had 26 kills on 38 of 43 swings, Sprouse dropped 19 kills, Madisen Davis went 28 of 31 for 13 kills, and Jacqueline Noland hit for seven kill shots, as SWC totaled 89 kills.
SWC (17-7 overall) heads to Condon at 5 p.m. Thursday in a league match.
More like this story
Latest stories
Latest video:
Mosier oil train fire
Clips from oil train fire in Mosier, Friday, June 3, 2016. by Mark B. Gibson/The Dalles Chronicle. Enlarge