Tuesday, September 26, 2017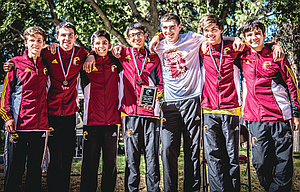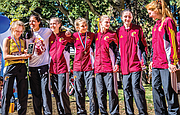 For 25 years, the Bridgette Nelson Invitational has been the marquee cross country race in the state of Oregon.
On the tough Sorosis Course, The Dalles boys and girls posted a first-place sweep this past Saturday in a great tribute to Nelson's will, drive and work ethic.
"This race has special meaning because Bridgette Nelson was a special runner," said TD head coach Bob Thouvenel. "It means so much to me and her family. It is pretty special to be a part of this. It epitomizes the type of runner she was. She was a very hard-working young lady and she just improved the whole time she was part of this program."
Of The Dalles boys' top seven runners, Gabe Lira wound up third overall amongst the 85-person field with a time of 17 minutes and 37.40 seconds, behind Ridgeview's Albert Hesse (16:53.94) and Heppner's Hunter Nichols (17:29.57).
Rey Aviluz placed fifth with his 17:48.09, Michael Lantz added an 18:11.55 for seventh, Jonathan Knotts secured ninth place after an 18:22.06 and Sam Alvarez had a 10th place outcome of 18:24.30.
Friedrick Stelzer had an 18:31.17 to lock in for 11th place, and rounding out the varsity side was Zerin Croover, who hit the finish line in 18:47.02.
The first 11 Riverhawk runners all had times of less than 20 minutes, something Lantz likes seeing with the boys.
The runners cannot afford an off day, because there is someone right behind, who is pushing harder and harder to get into the varsity lineup.
"I think that it is the motivation factor that keeps us going," said Lantz, a senior. "We all know each other and we are all friends and we just keep pushing each other every day. I think it is good that we have this competition, because it drives us to be better than we were in our last practice and race."
The Dalles had 26 harriers take part in the varsity and junior varsity combined race, and after the first seven, Zack Ziegenhagen (19:15.60), Noah Holloran (19:23.91), Bill Burns (19:41.74), Evan Despain (19:59.72), Gavin Cates (20:06.14) and Dillon Dorado (20:10.63) were part of the top-25 in the individual standings.
The boys have been kind of a wild card at the start of the 2017 campaign, but following a fourth-place run at Tualatin on Sept. 9 and a second-place team finish on Sept. 16 in Oregon City, this group appears to be trending upwards.
"Three or four of our top runners ran during the summer months and it has paid off for them," Thouvenel said of the boys. "They have made huge improvements from last year, and they are working hard. Right now, barring injuries, illnesses and the usual things that coaches deal with, we are happy with where our kids are. We have another five weeks before our district meet, and so, we will just continue to do what we have been doing to prepare them."
The Dalles had 34 points to take first place ahead of Toppenish (82), Heppner (85), Ridgeview (88), Trout Lake (91), and Bickelton (139) made up the boys' standings.
With the running efforts of Emma Mullins (21:28.29), Hanna Ziegenhagen (21:29.73), Savannah Strassheim (22:16.51), Jenna Miller (22:19.88), Paulina Finn (22:47.61), Aspen Cook (22:56.00) and Zoe Orion (23:06.09), The Dalles girls' team scored 36 points for first place and the two-team sweep.
Trout Lake (55), Ridgeview (62), Heppner (98) and Toppenish (115) all had solid finishes to wrap up the standings.
Ziegenhagen and the girls made it a point to send a statement on their home course and putting up nine times in the top-25 overall is a perfect way to do just that.
"We all want to do well, especially on our home course," said Ziegenhagen, a freshman. "We put in a lot of work in practice. After every race, you always get this feeling of pride in yourself and your teammates, knowing you gave everything you have. We push and we all encourage each other in all of our races, so it brings us closer and makes us stronger to come out and place high."
The next group of runners, Elizabeth Tapia (24:02.96), Emily Johnson (24:03.17), Marissa Heemsah (25:19.88), Brianna Webber (25:32.46), Darlene House (25:57.84) Yajaira Madrigal (26:33.81), Aurelia Hill (27:01.18), Aranza Aviluz (27:31.82), Marin Alvarez (31:08.23), Yahaira Alvarez (36:26.52), and Sarah Winters (37:01.12), came through with standout performances to help TD secure first place.
"Our girls were without one of our top runners due to injury," Thouvenel said. "We didn't want to take a chance on re-injury and we still did all right without her. We will have her back next week. Our girls team is looking good. We need a little more improvement there and we are getting there. We have some younger girls that are challenging the veterans and we are seeing that in the boys too."
The Dalles is off and running again at 9:15 a.m. in the Curtis Invitational Meet at Central Meadows, Wash. this Saturday.
More like this story
Latest stories
Latest video:
Mosier oil train fire
Clips from oil train fire in Mosier, Friday, June 3, 2016. by Mark B. Gibson/The Dalles Chronicle. Enlarge