Wednesday, September 20, 2017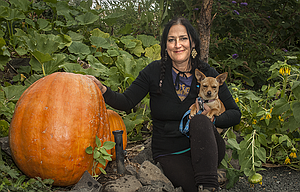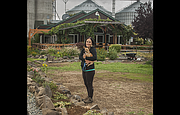 When Karyn Hart set out to revive the neglected gardens around Bent River Restaurant and Schwarbach's Sports Bar, located along the Riverfront Trail at 1535 Bargeway Road, she had her work cut out for her.
"It was pretty dilapidated," she said. The property had been derelict about three years, and vandals had stolen plants and much of the irrigation system. "The drought-tolerant plants survived, the roses made it, some volunteer perennials."
A professional gardener in Napa, Calif., for many years, Hart moved to The Dalles to be closer to her two sons and her daughter, all teenagers. One day she approached Martin Schwarzbach, the owner of the property, and asked if she could take cuttings from some of his roses.
"I told him 'don't worry, I'm a professional gardener.' He said, 'Would you like to take over the gardens here?'"
She did, and about six months into it the garden is drawing smiles from visitors, who are appreciating its restoration.
"I planted the vegetables, and the color you see," she said.
She dismantled, cleaned and restored the two fish ponds, which involved removing every rock and pounds of coins. A client from the restaurant donated fish. She moved around a lot of rocks, making borders.
West of the restaurant next to the Riverfront Trail, which passes immediately in front of the dining area, she leveled an area and planted grass as a place to hold weddings. The area must be done by October 28, when Martin and Julie Schwarzbach will celebrate their marriage.
Hart will be officiating, under her credentials from the Berkley Psychic Institute, Church of Divine Man.
Near the entrance to the restaurant, where the two fish ponds are located, are trailing pumpkin vines and a monster-sized pumpkin, which Hart estimates at 75 pounds. The vines trail everywhere, over rocks, between plants, and into the shrubs. "I planted two, and they just took off, so I planted some more seeds," she said.
The second largest pumpkin, which weighs around 50 pounds, and some smaller ripe pumpkins are adding to the décor of the dining area inside, where the larger pumpkin will go when it is ripe.
"People really enjoy the plants, and hunting around for pumpkins," she said. She guesses there are about 20 of them on the vines.
She describes the garden as being in a rustic, Italian, Napa Valley style. It is again becoming a draw for visitors and local families as well, she said. People come from out-of-state to visit, and it gives people ideas for their own garden as well.
The restoration should be done in October, Hart said, and next year she plans to concentrate on bringing art to the garden as well. "I plan to sell art from the garden," she said.
Those who remember the garden from the past often drop by as she works. "They thank me, and hug me," she said with a grin.
More like this story
Latest stories
Latest video:
Mosier oil train fire
Clips from oil train fire in Mosier, Friday, June 3, 2016. by Mark B. Gibson/The Dalles Chronicle. Enlarge