Tuesday, September 19, 2017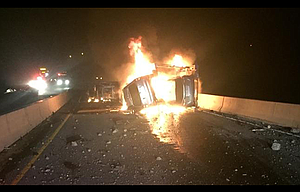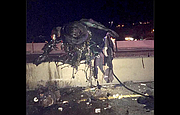 The driver of a van was killed Monday evening after traveling the wrong way on Interstate 84 just east of Arlington and crashing head-on with a semi-truck.
The man has been identified as Charles Eugene Bockman, 70, of Sequim, Wash.
A 24-year-old California man, Santos Counga, was driving the semi and was treated at the scene for non-life-threatening injuries.
According to an Oregon State Police report issued Tuesday morning, emergency dispatchers received a call about 7:40 p.m. Sept. 18 that a green 2003 Ford Windstar van was traveling westbound in the eastbound lanes near milepost 141.
Witnesses told troopers the driver of the van was traveling at 55 to 60 miles per hour. When the van reached milepost 137, it reportedly ran into the semi, which was carrying a trailer full of vehicles, and then hit and came to rest on top of the concrete center-line divider.
The semi caught fire and became fully engulfed in flames, completely blocking the entire interstate for several hours.
OSP was assisted on-scene by the Gilliam County Sheriff's Office, Oregon Department of Transportation, North Gilliam Fire and the Department of Environmental Quality.
More like this story
Latest stories
Latest video:
Mosier oil train fire
Clips from oil train fire in Mosier, Friday, June 3, 2016. by Mark B. Gibson/The Dalles Chronicle. Enlarge