Tuesday, September 19, 2017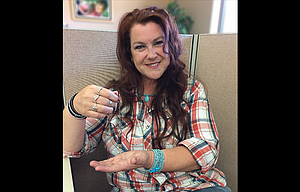 Mary Wymer loves old buildings — not only for the architecture, but for the people, long dead, she can connect with in them.
The Chronicle wrote about Wymer in 2011, who talked then about her lifelong psychic abilities and how she was learning to hone them.
She then lived in Spokane for three years, where she led ghost hunters through its extensive historic district and taught classes on connecting with spirit guides and angels.
Back in The Dalles since 2014, she now hopes to work full-time as a psychic, something she's never done before. She does readings on people and pets, and hopes to teach the same type of classes she taught in Spokane. And if you've got an old building to tour, she'd love to hear from you.
"I've changed a lot in how I do my readings and I'm able to get so much more," she said. "I just feel I've really grown a lot in how I get the messages through, how I express what I'm trying to get someone to understand. It's a lot of seeing pictures, I don't always get words, and I've gotten better at explaining what the pictures are."
She said if words and images she gets from the beyond are something that "can give someone some closure, that's what I want. That's what makes me go."
She plans to start taking new clients in early October, and can be found on Facebook at her page, Castle Walker, or by email at castle.walker3@yahoo.com.
While her Facebook page will list prices for her work, she said, "Don't not call me because you don't have any money.
"If you're in a situation where you feel you need my help in some way, call me anyway."
She used to work in home health care, but her abilities followed her there, too. She had one patient in particular she really enjoyed. But the woman had a ghost – a female relative with long black hair – who Wymer saw checking on her whenever she was sleeping.
When Wymer finally worked up the nerve to tell the woman's granddaughter about the entity, the granddaughter said that other caregivers had seen the entity too.
Wymer is a devout Christian who works hard to protect herself from "anything that's not of God or none of my business" as she does her psychic work.
She said the only thing she can guarantee in a reading is her time. She can't guarantee who will show up. But "whatever I get, I'm gonna work until you understand what it is."
When she schedules a reading, sometimes she starts getting messages from the beyond the day before, "and I'll have new people bugging me because they want to get information through."
In 2011, Wymer said she got information on missing people on TV, but didn't act on it out of a fear of creating false hope and having a lack of confidence in her abilities.
But in Spokane, she worked with another psychic who was working with the police, and she helped out on some cases. "I did not work directly with the police myself but I did help her and I learned a lot from her on her process in locating things, items and/or people."
She's been working a lot in the past year or so to hone her abilities in helping people find a past loved one that disappeared.
"And maybe one day I can get to the point where I can help someone be found before it's too late."
She's also focusing on "helping other people who are interested in connecting with their own abilities and their own gifts, and especially their past lives."
That involves "teaching people how to be able to connect with a past life and help them understand why some things are the way they are in our current lives and how it's connected," she said.
"It really helps make sense of a lot of things that you just can't find an answer to, or a reason why about some things that you may have been through in your life."
But one of her favorites will always be old buildings. On one ghost hunt, there was a large barn, long disused, and she couldn't wait to get in there.
"I whispered to someone 'There's a little boy in the corner in one of those stalls.
"So of course we walked over there and there was a rope that was hanging from the ceiling and on the end of it was tied a toy, it looked like kind of a cat toy and it was swinging back and forth."
Speaking of things swinging back and forth, Wymer uses a pendulum in her work. She took it out to demonstrate to a reporter, and as it began swinging, she said, "I can hear my heartbeat in my ears."
She helped a person find out what happened to a loved one by holding the pendulum over a map, and seeing where it guided her.
"In the past, I've just used it for healing and moving energy but I've been learning about using it on a map and for locating things," she said.
Her healing work includes doing meditations with people and one is to "bind yourself to yourself, so that you're not always putting out everything and it's hard to let anything in when you're running around, and I can help with that."
While she has improved her skill at describing the images she sees, sometimes, she doesn't have to describe things, like the time a bloody machete was found on the dirt basement floor of a duplex in Spokane.
She came across that macabre discovery when doing a reading for a woman who was having all kinds of strange things happen in her house.
"Her animals would get upset," Wymer said. She lived in a rough part of town, and people were getting arrested practically in her front yard.
Wymer did a reading, and felt something was amiss, so they did a 24-hour recording of her, to check if the woman was sleep-walking and moving things in her sleep. They didn't find anything strange on the tape, but the woman called later to say things were still happening.
As Wymer was talking to the woman in her house, the woman said, "'I'm just so tired of this life.' And she was standing next to a bookshelf and a book flew out of — I seriously saw this with my own eyes — a book flew out of the bookshelf and fell face down on the floor."
It was a book by Dr. Phil, the well-known TV psychologist. Wymer picked up the book and told the woman, "I feel someone wants you to read this."
Wymer kept feeling like there was something there that shouldn't be. So some ghost hunters who were with her headed to the basement and found a machete with old dried blood that looked like rust.
"We took it, blessed it with some holy water and one of the team members took it to bury it on his property," she said.
"Once we got that out of there, things started getting better for her."
She added, "Yeah, she had spirits in her house, most houses do.
"Some are just able to do more than others and I think what she was getting was protection from all this chaos that was around her, where she lived."
As Wymer stated on Facebook, "Believe in what you cannot always see."
More like this story
Latest stories
Latest video:
Mosier oil train fire
Clips from oil train fire in Mosier, Friday, June 3, 2016. by Mark B. Gibson/The Dalles Chronicle. Enlarge