Tuesday, September 19, 2017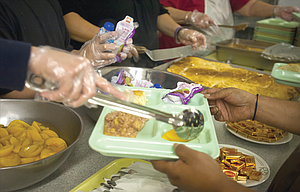 There's going to be party in the parking lot outside the Community Meal site on Saturday and area residents are invited to come down, enjoy music and a hamburger, and learn more about the program to feed anyone in need of a hot meal.

Local band "Got Your Six" will be performing during the open house at the St. Vincent de Paul Society facility at 315 West Third Street from 3 to 5 p.m. on Sept. 23. Members of the Foursquare Church in The Dalles will be barbecuing hamburgers.
"People can come in, have a look at what it's all about," said Chris Mumford, founder of the band named after the military term for "Got Your Back" and a member of the church.
He said the nonprofit organization, Community Meal, needs three or four sponsors of a Friday, Saturday or Sunday night meal four times per year.
Although some people are uncomfortable working with the homeless, Mumford said it is important to remember the Biblical lesson in Matthew that tells us "whatever you do to the least of mine," you have done for the Lord.
"We need to quit fighting amongst ourselves as Americans and come together to help those who need us," he said. "We need to come to events like this to spend time with our friends and neighbors – that's what communities are all about."
Chris Zukin, president of the Community Meal board, said the program is volunteer-run and has been in place for more than 30 years.
He said the entertainment and festive atmosphere of the event planned by Foursquare is very welcome.
"Anything that calls attention to our program is positive," he said.
He said churches, businesses, families, clubs and organizations have joined forces to make sure there are hot suppers available every weekend. The meals can draw anywhere from 30 to 60 people, however Zukin said he and his wife always prepare 80 meals since people sometimes get second helpings, or take a to-go container with them.
Meal choices are simple; typically, there is a main dish, a salad or vegetable and a dessert. When a group makes a meal for the first time, Zukin provides them with an instruction sheet and shows them where the cookware and supplies are kept.
"We are not in crisis but it would be wonderful to more people hosting meals," he said.
Zukin said the Oregon Food Bank provides some of the food, and some is bought with donated funds. If people want to cook what is available, he said they can come to the site to scout out the possibilities, which include hamburger and chicken, and then mark that package in the freezer with their name.
"Some of the groups prepare their own food and some use what we already have," he said.
The organization's web page, communitymeal.com, lists available dates for upcoming meals for the rest of the year. A donation link is available on the site.
To learn more about the program, contact Zukin via email at zukin@charter. net, or by phone at 541-993-1792.
More like this story
Latest stories
Latest video:
Mosier oil train fire
Clips from oil train fire in Mosier, Friday, June 3, 2016. by Mark B. Gibson/The Dalles Chronicle. Enlarge