Saturday, October 21, 2017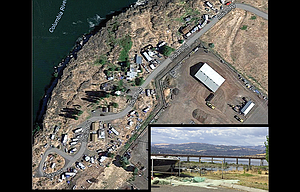 This four-part series looks at the Lone Pine Native American treaty fishing in-lieu site, which overlooks The Dalles Dam. The first article describes homeless advocate Dorothy Rodriguez's push to help meet needs at the site. The second, presented here, shares the viewpoints of two women who have lived at Lone Pine for years. The third looks at plans to finally fulfill decades-old promises of housing for tribal members displaced by dams. The final article looks at current maintenance levels at Lone Pine.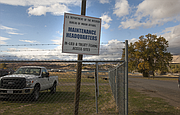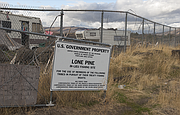 Life at Lone Pine seems a hardscrabble existence, but one resident of the small, crowded Native American fishing site overlooking The Dalles Dam takes a different view.
She was happy to talk to a reporter, but didn't want her name used. She acknowledges that her sister likens their environment — a haphazard collection of mostly dilapidated trailers that is home to some 30-40 year-round residents — to a Third World country.
But she doesn't see it that way. She describes it as a close-knit community, since that's what she experiences. "Because if any one of us need help, we're there if we can help. Everybody out here helps everybody."
But, as she showed a reporter Lone Pine's run-down bathroom, door-less stalls with plugged toilets and foul graffiti on the wall, she acknowledged, "It's hard out here for positive stuff."
She's straightforward and open to questions. She's learned to tune out the fact that The Dalles Dam — built in 1957, inundating two villages and the famed fishery at Celilo Falls, drowning their former way of life — looms large in the background.
She also overlooks the fact that the nine-acre site, featuring culturally significant rock outcroppings, is strewn with discarded items ranging from shoes and socks to broken vehicles and junked trailers.
Instead, what she sees is the river. Or, as she calls it, "My river." She recounted how her grandkids teasingly chided her, "It's our river, too."
"I've learned to overlook everything. As long as I can see my river, I'm fine."
Lone Pine is one of five "in-lieu" sites in the gorge built after dams inundated traditional fishing grounds. They were established in lieu of lost villages and fishing sites, hence their designation.
Everyone at Lone Pine fishes, another resident said, with the exception of two people who have jobs in town. Fishing runs from spring to fall, and this year has been a pretty bad year.
The woman smokes, dries and cans fish for fishermen. She keeps half the take in exchange for her work. Then she trades her product for other things she needs, "like my roots and my berries." If she has extra, she sells it at a good discount for events like funerals, when people are in need, because that's how she was raised by her mother.
Asked what she liked about living there, she said, "It's just no stress. If I've got my door closed in my trailer, nobody comes and bothers me."
She's a scratch cook who bakes a variety of things, from fry bread to cinnamon rolls to French bread. "I started cooking when I was six years old. I make my own tortillas, pies and cakes."
She does a lot of sewing and yarn work.
She's all set in her trailer. "My oven, my fridge, my stove and my freezer all work. I have to have my ice cream."
Like everyone there, she said, she has learned to tune out the garbage and mess scattered around. "It's something we've learned to live with."
But, woe be to the kid she catches littering. She lectures them about respect and orders them to pick up their trash.
Matters aren't helped by the howling wind and dogs, which further scatter things. She'll put her gloves on and pick up the garbage that blows into her area.
If a trailer isn't used anymore, people just leave them. Some five or six years ago, someone did haul off some scrapped boats and trailers, she said. For awhile, there was a big problem with tires everywhere. "Oh, that was awful."
She has a car and takes advantage of the Dalles Community Cleanup Day. She tried to order more dumpster service at Lone Pine, but didn't get anywhere because she didn't pay the bills, she said.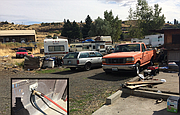 "I used to come out and tried to clear out as much as I could," she said. But big items, like rolled carpet or bed frames, won't fit in the dumpster and won't get hauled off.
"That umbrella has been there a month and a half," she said, pointing to a junked item by the dumpster.
She lived at Lone Pine as a young kid, then lived in town most of her life, and moved back a handful of years ago. "When I started living here it was really nice, but people started leaving stuff. People don't care."
Chuck Hudson, intergovernmental affairs director for the Columbia River Inter-Tribal Fish Commission, who lived on his tribe's reservation in North Dakota from the age of nine, said, "Many of us have lived in this world where one of the early and often trafficked points of discrimination is claims of 'Well, their yards are so messy, so many junked cars.'"
But those are the dynamics of poverty, Hudson said. People in poverty are often the end user of items, and they might be the fourth owner of a car. "Same with the trailer, same with the toaster, same with the bicycle."
The area around the bathrooms smelled pungent. Rotting deer bones were tossed on the roof of a nearby fish shack to keep them away from the dogs, the resident said.
She once agreed to be named in another story about Lone Pine, but was unhappy that it portrayed it as a scary, drug infested place where people were afraid to go to the bathroom at night. The story got wide circulation, and she had friends calling her from all over the West Coast offering to have her live with them.
No, she said, she's fine where she's at. "It's not a scary place, but it's a place that can use some help."
And while she's not afraid to be there, there have been problems with drugs and crime. "That's on any place," she said. "That stuff does happen, but I'm not afraid to walk to the bathroom."
She said the story she was quoted in made it sound like people were drunk 24/7, "but that's not the case."
It's been awhile, the woman said, since she's had to yell at people who were making a racket at night.
One effect of the story was that the wider local community suddenly discovered they were living back there, and a bunch of donations poured in.
She said some people wanted to donate "but they were scared because the paper portrayed us as savages."
After a couple months, the donations stopped.
While she describes Lone Pine as a helpful place, she described another side to it as well.
She hauls her own toilet paper into the bathroom and takes it back out. "Otherwise, it walks off." Same with keeping things outdoors. That's an invitation for someone to pack it off.
Her car broke down once and somebody took the tires off it.
She'd like to erect her own power pole, but can't find anyone to do it. The lone power outlet in the place is heavily used. If just one extra person tries to tap into it, "It always trips, trips, trips."
She said some people have priority for power over others. "It's who you know," she said.
She once got a ticket for theft of services for plugging into the power, but it was dismissed in tribal court, she said.
As a member of the Yakama Nation, she gets $122 a month, she said. Elders and children get more.
As for housing — real, permanent housing instead of the derelict trailers — she said that her father said for decades that they'd been promised, but never delivered.
Efforts have begun to form an inter-tribal housing authority to address housing needs, but any yield from it is years away, officials said.
Other Lone Pine residents also take a hardy view of life there.
As visitors recently discussed the difficulty of living at Lone Pine — where there is only one water spigot for everyone, two toilets and two showers each for the men and women, and one electrical outlet — one young woman said things weren't tough for her. "I've only been here seven years."
Another young woman, Gabby Listek, has lived at Lone Pine off and on for four years. She's also lived at two other in-lieu sites, and said Lone Pine is the smallest, but the most crowded.
"There are a lot of elders that live here and they deserve more than the tribe is giving them. I'm young yet and I have the trailer and I'm fine," she said.
Later, she smiled as she walked by with some dishes to clean in the bathroom sink, creating a sense of campground living.
"They're great people, but life's hard, especially down on the river," Listek said. She said of some other residents, "They've got this beautiful little infant right here, and people have all these kids, but especially the kids, they need help. Especially the kids and the elders."
Another woman, who asked not to be identified, said just two houses have been built at Lone Pine. "Trailers don't keep warm in the winter," she said. "Well, they do, but you have to sleep right by the heat."
She said she liked living at Lone Pine. "The trees make it shady." But there are hard aspects to it: "Oh, the bathrooms," she said.
She said people use buckets to go to the bathroom at night, because the lone set of toilets is too far away from most trailers.
"When my kids were growing up I rented a toilet," she said. Others would use it, angering her husband.
"Why can't these full-grown adults buy their own toilets?" he fumed, before he got rid of it.
More like this story
Latest stories
Latest video:
Mosier oil train fire
Clips from oil train fire in Mosier, Friday, June 3, 2016. by Mark B. Gibson/The Dalles Chronicle. Enlarge