Saturday, October 21, 2017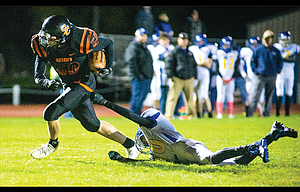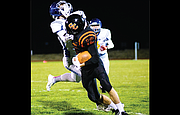 MORO – Having an extra week to prepare for Arlington-Condon paid huge dividends for the Sherman Huskies.
Bradley Moe rushed for 107 yards and Jacob Justesen rushed for two scores and added a pair of touchdown passes, as the No. 12-ranked Sherman Huskies jumped out to a 46-0 halftime lead on their way to a 46-8 victory over Arlington-Condon Friday in a Big Sky Conference showdown on homecoming night in Moro.
"We had two weeks to prepare, so we got a little bit more rest, which is good for the kids at this point in the season, and we had a couple of phenomenal days of practice," said Sherman coach Mike Somnis. "Their preparation and their focus were phenomenal, and they came in excited because it is senior night and homecoming, all that stuff, and they really fed off that energy tonight. I am really happy with the way these kids played."
The Huskies scored four times in the opening quarter, starting with a three-yard rush by Moe.
Justesen added a 13-yard pass to Treve Martin and hit the end zone on a seven-yard rush and senior Reese Blake tacked on a 19-yard touchdown, giving the Huskies a 30-0 lead through the opening quarter.
With two minutes and 28 seconds left in the half, Justesen plunged into the end zone for a one-yard score, and following an Arlington-Condon punt, Justesen found an open Luke Martin for a 28-yard touchdown pass to give Sherman a 46-0 halftime advantage.
"We were fired up and jacked up for our homecoming game," said Blake, who rushed for 64 yards. "We played our style of ball and we kept pounding it and pounding it. Our linemen did a great job of opening holes, Treve did a good job of catching some balls, and we ran tough, so that all looks good for us moving forward."
Sherman totaled 322 yards, 219 rushing, in the opening half and scored on six of its first seven possessions.
Falling behind early, Arlington-Condon could not sustain any long drives, being held to negative 13 yards in the opening half, with the longest gain going for 19 yards.
The Sherman defense also posted seven first-half sacks, four by Treve Martin and one apiece by Moe, Tyler Jones and Makoa Whitaker, and Jared Fritts added a fumble recovery.
In the second half, Arlington-Condon managed 65 yards, but the Huskies added a sack from Chris Ballesteros and an interception from Tyler Bledsoe.
The lone Honker score came from Trey Homer, who hauled in a 55-yard pass from quarterback Thomas Evans with six minutes left in the game.
"The kids played well on defense tonight," Somnis said. "They hit hard and they flowed to the ball and stayed home. Coach (Kyle) Blagg did a phenomenal job in the last two weeks of getting a game plan together and the kids really executed wonderfully tonight."
Justesen had 103 yards passing on 4 of 8 completions with two scores, and Wade Fields was 2 of 3 for 28 yards in a relief role.
Justesen rushed nine times for 82 yards, Fields totaled 16, Jeremy Ballesteros added 12 to give Sherman 281 yards on 40 carries.
Blake caught two balls for 62 yards, Moe had two grabs for 28, Treve Martin added a touchdown catch of 13 yards, and Luke Martin gained 44 yards and scored on his only catch.
Arlington-Condon ended up with 52 total yards, led by Evans, who completed 5 of 12 passes for 64 yards and rushed 18 times for 19 yards.
Now just one win away from clinching the Big Sky's second state-playoff berth, the Huskies have it in their mind to stay on pace with some of the top teams in the state.
"We still have a long road ahead and we can get better in a few spots, but overall, we are doing pretty well," said Caleb Fritts. "We can get better, as long as we continue to work hard on the areas we need to improve on. It will come down to studying and learning from our mistakes and fixing them for our games. If we can continue to do that, we can be one of the best teams in the state."
Sherman (4-3 overall, 1-1 league) makes a trip to No. 18-ranked Perrydale (4-4, 0-2) next Friday at 7 p.m.
More like this story
Latest stories
Latest video:
Mosier oil train fire
Clips from oil train fire in Mosier, Friday, June 3, 2016. by Mark B. Gibson/The Dalles Chronicle. Enlarge