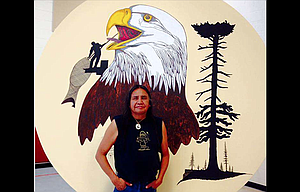 The "Columbia River Indian Autumn" celebration is Saturday, Nov. 4, from 9 a.m. to 5 p.m. at the Columbia Gorge Discovery Center, 5000 Discovery Drive.
Admission is free for the event that features artisans, musicians and vendors from regional tribes.
The programming includes flute music by Foster Kalama, tule mat making demonstrations by Taaw-lee-Winch, traditional Indian games and drumming with Jefferson Greene, a Northwest Twined Pouch workshop with Pat Courtney Gold, and local craft vendors.

Enjoy a traditional Native American Salmon bake, beginning at noon. The salmon will be prepared by Brigette and Sean McConville, who will demonstrate traditional methods of cooking.
The $15 luncheon includes side salads. In addition, Indian Fry Bread prepared by the Kalama family will be available for purchase.
The McConvilles, from Warm Springs, maintain Salmon King Fisheries, a fishing and retail business on the Warm Springs Reservation. Lunch is available on a first come, first serve basis.
Jefferson Greene will lead games for children from 3 to 5 p.m. For centuries, tribes throughout the Americas have played games for fun, development of senses, accuracy, sportsmanship, and teaching determination. Activities will include drum and song games, hoop toss, hoop & arrow, kick bags, rock in fist, ring the stick, kickball racing and dice games.
Taaw-Lee-Winch is an elder in the Warm Springs Tribe. He will demonstrate the techniques of making tule mats, and showcasing the Wasco Regalia he has made. Since he was a young man, he has studied traditional Wasco songs, arts, tribal practices and rituals.
He is a master craftsman of ceremonial tule mats and the deer hoof embellished items that men wear. Taaw-lee-Winch is a great conversationalist who is pleased to share the traditional culture and the tribal history of his Wasco people.
Ko-Na Foster Kalama (Warm Springs) has taught music for a number of years at Oregon schools. He plays the flute and is a drummer.
"I have been taught by an Elder that I have to play from my Heart. He told me that our instruments are spiritual instruments, and that our songs are borrowed from the Heavens," Kalama said. He traces his lineage from Hawaiian King Kamehameha and Queen Kalama as well as Old Chief Joseph. He grew up in Warm Springs and prefers to stay as close as possible to traditional ways. He is a peace pipe carrier for his family and people as well as a musician.

Pat Courtney Gold is a Wasco Native, a descendant of the "Long Narrows Wascos." She is a master weaver and will be giving a Northwest Twined Pouch workshop. Besides doing artwork, she lectures about the Columbia River Native cultures to universities and museums.
Several Native vendors will be on hand with beadwork, jewelry, and hand-made crafts.
"We want to offer the opportunity for local indigenous peoples to showcase their culture and history at our facility," said Carolyn Purcell, executive director at the Discovery Center. The event is part of an ongoing Indigenous Voices Project funded in part by grants from Trust Management Services, Oregon Historic Trails Fund, Wy'East Fund of Oregon Community Foundation, and Oregon Folklife Network.Additional sponsorship was provided by Weston Kia, Gresham.
For more information call 541-296-8600, ext. 201, or visit online at www.gorgediscovery.org.
Latest stories
Latest video:
Mosier oil train fire
Clips from oil train fire in Mosier, Friday, June 3, 2016. by Mark B. Gibson/The Dalles Chronicle. Enlarge