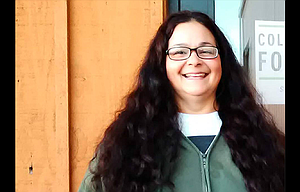 This four-part series looks at the Lone Pine Native American treaty fishing in-lieu site, which overlooks The Dalles Dam. The first article describes homeless advocate Dorothy Rodriguez's push to help meet needs at the site. The second shares the viewpoints of two women who have lived at Lone Pine for years. The third looks at plans to finally fulfill decades-old promises of housing for tribal members displaced by dams. The final article looks at current maintenance levels at Lone Pine.
One evening early last month, some people asked homeless advocate Dorothy Rodriguez for a ride home. It would prove to be a fateful trip.
It was a tight squeeze to get them all in her already loaded up car, but it was getting dark and she knew it would've been a long walk for them.
What she saw when she got to their destination, the Lone Pine Native American in-lieu fishing site overlooking The Dalles Dam, broke her heart. It also galvanized her to action.
"I was just like, 'Oh my God, we're two miles from civilization and this is like a Third World Country.'"
She only used that vivid descriptor after hearing a resident there say it first. Rodriguez said she has a deep respect for Native American culture and the residents of Lone Pine, and later brought a reporter to visit them only after getting the go-ahead from elders.
In a Facebook post, Rodriguez likened the site to Haiti being two miles from Hollywood. The roughly 30 to 40 people — many of them children — who live there "are having to utilize trailers and campers that had been fully submerged underwater, where the walls are rotted, the windows are missing, or they have a few windows and the skylights are missing," she said.
"So, everything is tarped and cardboarded, with blankets and tarps everywhere," she said.
She was embarrassed as an American to find people living in such conditions.
The entire nine-acre site — tucked behind the state office building that fronts Bret Clodfelter Way — has one electrical outlet, with frayed power cords snaking across roads to trailers. There is no place to do laundry.
A bathroom facility has two indoor toilets and two showers for women, and the same amount for men. Two portable bathrooms are nearby.
The toilets on the women's side lack doors, and the toilets themselves often don't flush properly.
One double-headed water spigot serves the entire area. All but one of the dilapidated trailers are in use. Items, from socks to toys to nonworking cars, are strewn everywhere.
One of the ladies explained their struggle, and accepted Rodriguez's offer to help.
"They're happy to be gracious recipients of the gifts of the community, because at the end of the day we all bleed red and we're all members of the community and we all struggle just the same," she said.
Rodriguez, who lives in Goldendale but comes to The Dalles regularly, has been working for several months to help the homeless in The Dalles. She quickly posted a request for a wide range of items on a closed Facebook page she maintains. Donations quickly poured in.
They quickly had a truckful, and hauled it out to Lone Pine, and invited everyone to come take what they liked. They've done that at least five times by now.
One woman at Lone Pine gave Rodriguez five salmon as a thank you.
Some people locally are no longer working with Rodriguez over concerns with how volunteers are treated, and what they described as inadequate training and preparation for volunteers who work with the homeless.
Their main concern was about financial accountability. They cited a lack of donation documentation for tax purposes related to her non-profit organization, and a lack of accountability regarding where donations went.
They are continuing to work with the homeless on their own.
Rodriguez responded, "I am thankful for people who help. I will not, however, excessively praise and appreciate people for doing what we should all be doing, which is loving and caring for our neighbors. So yes, I have been accused of treating volunteers bad."
She said her Facebook group, "Change Begins With Us," was started "as an experiment" to connect people to help others and wasn't a part of her non-profit. "It was never intended to be a formal organization."
She said the non-profit hadn't collected any money in regard to outreach efforts the group was doing.
A former volunteer said varying online efforts by Rodriguez to collect money were linked to her non-profit.
Rodriguez said, "Facebook groups don't typically provide formal training. Each person is responsible for themselves. The people who received cash donations were responsible to distribute them. I did not handle those donations."
Former volunteers said they handed hundreds of dollars to her.­
Rodriguez, whose daughter-in-law is Native American, expressed her respect for the tight-knit Native American culture.
"These are families that love each other that really bond together to work to make everything work," she said. "They work together to try to make everything functional to be effective. If one family has something that they have extra of, they will share it with the other family, and vice versa."
On top of it all, it's been a bad fishing season, which hurts pocketbooks even more, and winter is coming. The need for fuels for cooking and heating is pressing.
Rodriguez said she keeps hearing in town that nobody even knew Lone Pine existed.
In fact, Lone Pine was built 64 years ago, in 1953. It was one of five sites constructed in the Gorge "in lieu" of the traditional Native fishing grounds that were inundated by the construction of dams on the Columbia River.
Called in-lieu sites, they were designed for limited seasonal use – though the season stretches eight months, from March to October — but the actual usage far outstripped expectations.
On a sunny day in late September, Rodriguez and a helper brought a truckload of stuff, mostly clothes and shoes. A few people meandered over and took what they wanted.
One woman was happy to pick up some child's galoshes for her nephew. "He's a little fisherman and he doesn't even have any boots."
The needs are vast, from propane to better trailers. Rodriguez, with help from The Dalles City Councilor Darcy Long-Curtiss, brought over a donated trailer recently for a family with an infant.
Rodriguez wants the government to step in and fulfill its long-ago promise to replace the homes tribal members lost to the dams so many decades ago.
But any such help is likely years away. "It would be a hell of a lot easier with help but if it's a matter of pulling one donated trailer at a time in there, I will," she said.
Rodriguez was homeless for a time as a teen, and has been a lifelong homeless advocate since. She simply cannot look away from suffering.
"It's one of those things you can't pretend to not know something once you know what it's like. To someone who has never been cold, never missed a meal, never been without utilities, they will never understand the struggle."
Some of the cars at the in-lieu site work, but most people don't have vehicles, she said. Rodriguez is trying to find some bikes to give to people so they have a means of transportation.
She also just learned she can work with the Oregon Food Bank to regularly deliver food boxes to Lone Pine.
The most pressing need she heard about that first night at Lone Pine was for food, so she came back the next day with 40 homemade burritos. She was beside herself when they ran out before everyone got one, so she made a special trip back with more food.
She also would like to help get access to medical and dental services. She's trying to get medical professionals to go out to Lone Pine with her.
She said kids, through poor nutrition, can end up with all their teeth gone by middle school, and they either have false teeth or no teeth. "It certainly isn't from eating lots of candy. When you can't afford food, you can't afford candy."
She was surprised to learn the residents of Lone Pine didn't know of available services.
Rodriguez said her work is motivated by a basic philosophy: "Jesus commanded us to love one another. It's simple, really."
More like this story
Latest stories
Latest video:
Mosier oil train fire
Clips from oil train fire in Mosier, Friday, June 3, 2016. by Mark B. Gibson/The Dalles Chronicle. Enlarge