Tuesday, October 17, 2017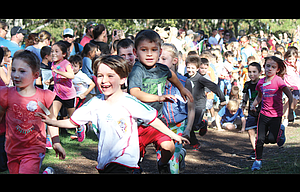 On a day when record numbers were achieved, Colonel Wright School reclaimed local bragging rights with the most students in attendance at the 20th annual Jumpstart Elementary Cross Country Meet held on Sept. 26 at Sorosis Park in The Dalles.
Last year, the event attracted 401 students ranging from kindergarten-through-fifth grade, as Dry Hollow won the trophy for most attendees with 130 to CW's 125 and Chenowith's 110.
Opening the eligibility to 12 different schools this year, including St. Mary's Academy, Dufur, South Wasco County, Sherman, Sonrise, May Street, Dallesport, Home School, and Columbia Lutheran, Chenowith hit for 98 runners, Dry Hollow added 131, but Colonel Wright lapped the field with an all-time high of 138.
"This year was different. The inter-school competition is fun and gives us something to work for in getting a ton of kids into the experience. It's quite a sight, with kids after kids after kids running the trails. They are really in the Blue Zone mindset at a young age."
Aside from the event itself, event organizer Tom Conklin's aim is to teach all aspects of cross country and overall health and an active lifestyle, so children develop a love of the sport early on.

Athletes do not start competing in cross country runs until middle school, so this is a teaser for the youngsters as they try to find their niche in the upcoming years.
"If we can get the kids to that race or the track meets and to compete, it is easy to see the satisfaction on their face," Conklin added. "You don't have to ask them; they are beaming with thrill."

Since its inception in 1996 at St. Petersburg School, Conklin has seen the event multiply.
He remains in complete awe to this day.
"It seems to keep coming back with interest," Conklin added.
This event was sponsored by CW PTO, Dry Hollow PTA and C.E.S., who handed ribbons to the top finishers in the races.
Conklin said the success of the run is because of the volunteer parents, teachers and community members, who took time out of their busy schedules to help out the kids.
"From registration table, to pickers at the finish line, finish line taggers, to the timers, the race starters, middle school cross country pacers, CW PTO, DH PTA, and CES, I know myself, JR Runyon at Dry Hollow, and Samantha Tenneson at Chenowith want to express our gratitude and thanks to everyone from the District 21 elementary school physical education programs," Conklin said.
The Jumpstart runs continue through the fall and winter months, starting off with the Winter Three Race 3k, 5k and 10k runs and walks.
Up first is the Freeze Your Gizzard Blizzard run at 9 a.m. on Saturday, Dec. 30, followed by the Valentine's Day run/walk on Saturday, Feb. 10, and then the St. Patrick's Day event on Saturday, March 17.
For more information on these upcoming races, go to the Northern Wasco County Parks and Recreation Department's official website at www.nwprd.org or by calling the front office at 541-296-9533.
More like this story
Latest stories
Latest video:
Mosier oil train fire
Clips from oil train fire in Mosier, Friday, June 3, 2016. by Mark B. Gibson/The Dalles Chronicle. Enlarge