Wednesday, October 11, 2017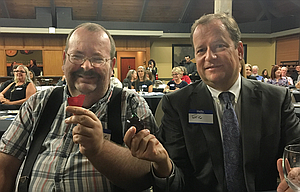 Wasco County District Attorney Eric Nisley can't say enough about his newest employee. Kurt Cochran, who is helping digitize the office's huge backlog of paper files, "has a great sense of humor," Nisley said. "He's got a great work ethic. He gets to work early and he stays late."
Cochran has a disability, and the attorney's office was recently named the "Best New Employer" by the Mid-Columbia Employment First team at an awards banquet.
Oregon's Employment First initiative promotes the benefits of paid, integrated work in community jobs for people with intellectual/developmental disabilities.
Cochran himself was given the "Dream Job" award at the banquet. He also works at Beachwood Eatery in The Dalles.
According to a press release from the Mid-Columbia Employment First team, Cochran said, "I believe in contributing to my community and earning a paycheck. I've got one blue collar job and one white collar job so I like to say that altogether, I am sky blue."
Cochran was hired in July, at the start of the county's fiscal year. His job? Begin digitizing criminal files of the district attorney's office beginning with the year 1994.
The DA's office has files that date back to the turn of the last century, Nisley said. "We're not digitizing those right now."
So far, Cochran is almost done with 1994.
"We have lots and lots and lots of files. And converting all that information into data is really important. Not only to preserve it but also to free up space in the courthouse so it can be used for other things," Nisley said.
He said the files have stopped "growing" since the office went paperless in 2015.
Cochran works in the basement, where the files are located.
Nisley said rather than go through the effort of figuring out which records to keep, it's easier to simply digitize them all. "And Kurt, he takes the entire file, he scans it, makes it into a PDF and he names it with the defendant's name and he gives it our case number, so we can easily retrieve it.
"He does his work, brings up his thumb drive, and we check the thumb drive," Nisley said.
"It's less about his disability and more about his ability to do the work," Nisley said. "It's tedious work and it takes somebody with an attention to detail."
He said, "We've tried in our office to do this ourselves, but the amount of time it takes is really difficult. So I can either have the people here doing their work, which they have just enough time to do, or I can have them digitizing, which they don't have time to do."
Nisley had wanted to do the digitization project, but the idea moved forward when he was working with someone from Opportunity Connections, which works to allow people with disabilities to live as independently as possible.
A crime victim the DA's office was working with was also being served by Opportunity Connections, Nisley said. "Just through conversations I kind of learned about what they did and the services that they provide and that they also provide employment services. And from there, I just went, 'What about this?' And it worked out perfectly."
Nisley said it was important to recognize the Wasco County Commission for agreeing to fund the project. Cochran is paid minimum wage and works about eight hours a week, on Monday and Tuesday mornings.
"I think it's great we won an award but I think it's important to recognize this is a county project," he said.
"All the department heads supported this, the commissioners supported this and my hope is that this is just a small start and we can create more positions like this."
Digitizing the work will make the records much more easily searchable. Nisley said it would take a full day before digitization to locate a record and produce it for a requester. Once digitized "we can find it immediately."
At the awards ceremony, several other awards were given, and Nisley was one of the speakers.
The large employer of the year was Safeway in Hood River and the small employer of the year was Thunder Island Brewing in Cascade Locks.
The Longevity award for employer was given to Best Western Hood River Inn, the longevity award for employees was given to Brad Divish with St. Vincent DePaul in The Dalles and Ashley DeRushe with Mid-Columbia Medical Center.
Also named best new employer was Arome.
Most dedicated employee was Sierra Bigelow, with Arome, and most resilient employee was Brandy Riggs, with the Hood River Hotel.
Nisley said, "It's very evident the people who were working were very happy to have jobs, worked hard at their jobs and loved it."
More like this story
Latest stories
Latest video:
Mosier oil train fire
Clips from oil train fire in Mosier, Friday, June 3, 2016. by Mark B. Gibson/The Dalles Chronicle. Enlarge