Tuesday, November 21, 2017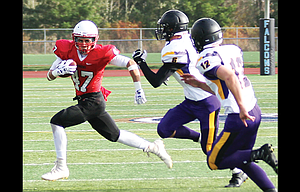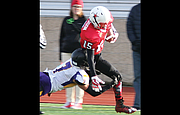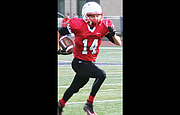 HILLSBORO – Early last Tuesday morning on his way to school, Dufur junior Abraham Kilby hit some black ice on the road, skidded to an embankment and flipped three times into a ditch.
Following a brief stay in the hospital and after undergoing tests, Kilby needed eight stitches to close a wound on the side of his head.
Medically cleared by doctors, and after getting the final affirmation from head coach Jack Henderson on game day, Kilby dressed down for Saturday's 1A state semifinal football game against Falls City, and posted five tackles with two sacks, one of those coming on a fourth down play late in the third quarter that kept his team ahead 38-22, in what was a 58-28 victory at Liberty High School in Hillsboro.
"First thing I have to say is, seatbelts save lives. Just remember that," Kilby said. "I can't thank the Dufur community enough for helping me through this. They are really great as far as supporting us. As far as the football team, we are more than just a football team, it is family. When I came out to play, I faced obstacles obviously, including a massive injury, but you know, I just powered through it, just like anyone from Dufur would do. That's just the way it works."
Added to what Kilby endured, a handful of players were dealing with some injuries, and Anthony Thomas had flu symptoms that kept him off the practice field on Thursday and Friday.
"It was very difficult. I mean there are a lot of people injured and I was sick," Thomas said. "It was really tough for all of us to get back together and to really focus because of all the trauma throughout this week of preparing. So, we were set back. It took a lot of inspiration from our coaches and it took a lot of heart from each and every player to come together and actually perform in the second half."
On the field, Falls City, the No. 6 seed in the playoff bracket matched Dufur, the No. 2-seeded and undefeated two-time defending champions, play-for-play, an entertaining opening half.
With 10 seconds left in the half, Mountaineer tight end Austin Burgess hauled in a nine-yard touchdown pass, and Jeremy Labrado added the conversion to run to make it 26-22, Dufur.
Falls City was set to receive the second-half kickoff, so it appeared to have everything going in the right direction.
Tanner Masterson had other plans, however.
The junior kick returner scooped up the ensuing squib kick and bolted the other direction for a 58-yard touchdown with no time left on the clock, giving the Rangers a 32-22 halftime lead.
"We challenged Tanner a lot this week to be that guy to step up and really exert his will on the game. He did. He did great. I am so happy and so proud of Tanner," Henderson said. "That was a huge play, it was a huge play in the game too because the momentum was swinging before the half. That is one of the great things about coaching, is things like that. When you see kids making things happen, it is so exciting."
Given the extra surge provided by Masterson's heroics, the Dufur defense held strong in the second half, holding Falls City to 166 yards on 28 plays, 68 coming on a touchdown reception by Reid Simmons that made it 52-28 with 4:35 left in regulation.
Sandwiched between Falls City's only score, Marcus Brown was thrust into a bigger role on the defensive line and had two tackles, Kilby picked up his fourth down sack, Asa Farrell grabbed an interception, and Curtis Crawford returned a fumble 11 yards for a score.
Falls City made good on 1 of 5 second-half third downs, the only conversion coming on a Dufur personal foul penalty, and also had a potential touchdown denied on fourth-down dropped pass.
"In that second half, I felt like we had more will and we had more strive for it," said senior running back and linebacker, Hagen Pence. "We just wanted it more, down deep. That was the big speech during halftime. H (coach Henderson) just came in there chewing our butts and he inspired us a lot. Told us to keep firing. We came out, worked on a few things and figured out what worked against them. From there, we just took control, put our foot on the gas pedal and kept on going."
At the 8:11 mark of the first quarter, Falls City jumped to an 8-0 lead, as Jesse Sickles connected with Noah Sickles on a 23-yard pass.
Dufur quarterback Derek Frakes got his team on the scoreboard, down 8-6, on a 1-yard plunge, capping a 10-play, 80-yard drive, and then with 1:06 remaining, Cole Kortge caught a pass from Pence, spun past Mountaineer safety Jeremy Labrado and cruised to the end zone for 60 yards, making it a 12-8 Ranger cushion.
Pence gave the Rangers an 18-8 advantage on a three-yard run with 11:37 left in the second quarter, then Burgess added a 9-yard catch for Falls City, and with the score 18-14, Kortge found paydirt on a 16-yard reception, which gave Dufur a 26-14 lead.
In the second half, the Rangers scored on three of its five drives, running 37 plays for 217 yards, 139 coming on the ground, 56 coming from Ian Cleveland and 55 off the scrambling of Frakes.
Dufur also converted 3 of 7 on third downs, and went 2 for 3 on fourth down plays in the final 24 minutes.
Cleveland gave the Rangers a 38-22 lead at the 1:23 mark of the third quarter, and the third touchdown catch by Kortge, this one from nine yards out, moved the team ahead, 46-22, with 11:25 left in the fourth period.
Crawford's fumble recovery made it 52-22, and after Simmons' 68-yard catch, Farrell turned a swing pass into a 12-yard end zone trip for the game's final score.
"Our kids were pushed around a little bit in the first half, and then we came out in the second half, and outside of a broken play, they didn't get anything," Henderson said. "Our defense played great in the second half, and offensively, we were better. We were able to hand the ball off to Ian, who is tough to tackle, and Hagen was tough the entire game, and after the first quarter, we threw the ball well."
Frakes completed 13 of 22 passes for 174 yards with three touchdowns and an interception. He also added 50 yards rushing and a score on six attempts.
Kortge caught six balls for 136 yards and a career-high three touchdowns, Crawford had 69 yards on five grabs, and Farrell had two catches equaling 21 yards, as the Rangers finished with 492 total yards on 67 plays, 258 rushing on 44 carries.
Pence hit for 92 yards rushing on 12 totes and a score, to go with his 60-yard pass, Cleveland hit the end zone and racked up 73 yards on 15 rushes, and Masterson rushed for 22 yards on four tries, with a third-quarter touchdown rush called back on a holding call.
The Mountaineers (9-2) hit for 85 yards on 37 rushing attempts, as Labrado netted 63 on 15 rushes, and Noah Sickles added 49 on his 12 attempts.
Jesse Sickles and Labrado combined to complete 11 of 21 passes for 237 yards and four scores, Sickles went 9 of 17 for 202 yards with three touchdowns and an interception.
Simmons tallied 155 yards and a touchdown on five catches to lead all receivers, and Burgess went for two touchdowns on his four catches that totaled 57 yards.
The Rangers (11-0 overall) take on fifth-seeded Hosanna Christian (11-1) at noon this Saturday from Cottage Grove High School.
With a chance to play for his third consecutive championship in his senior year, Pence is hopeful that this team learned its lesson from Saturday's semifinal contest.
The past two games have been physically and mentally challenging, but now is the time to dig deeper into the reserves to find the extra gear to finish out this magical 2017 campaign on a strong note.
"Everybody is going for us, and that's what has been happening in the past couple of games, is that we have been coming out slow," Pence said. "So, we are going to do a lot of stuff this week to prepare ourselves and just get ourselves pumped, mentally excited and everything in the locker room before the game. And just come on to the field excited to be playing football again."
More like this story
Latest stories
Latest video:
Mosier oil train fire
Clips from oil train fire in Mosier, Friday, June 3, 2016. by Mark B. Gibson/The Dalles Chronicle. Enlarge