Saturday, November 18, 2017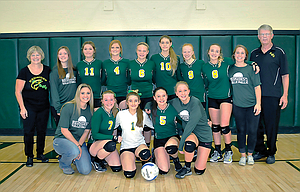 The South Wasco County volleyball team won 25 matches, claimed two tournaments, lost only one match from Sept. 9 until the state tournament, won a district championship and scored a sixth-place trophy at the 1A state tourney in Redmond.
With this stellar group effort, the Lady Redsides had Allie Noland and Jada Myers grab first-team all-Big Sky Conference honors.

Ana Popchock was a second-team winner, and the junior tandem of Jacqueline Noland and Kyrsten Sprouse each added honorable mention awards.
In addition to scoring all-league honors, Meyers and Allie Noland were named co-Most Valuable Players by their teammates.
As one of three seniors on the roster, Allie Noland capped her career with a 94 percent serve percentage on 499 of 532 attempts, and she added 364 for 417 on her hits with 181 kills, second-most on the team.
Noland was a four-year letter winner, an all-league pick in three seasons, and the team's Most Valuable Player in back-to-back campaigns.
"There are a lot of words to describe Allie, but I think I would choose, relentless," said SWC head coach Donna Barton. "She never slacks off, not in practice, not in games that don't matter, not in PE, not ever. You get her best effort at all times on the floor and in the classroom."
Myers blossomed as a junior, taking her game to a new level, especially at the net, where she slammed down a team-leading 270 kills on 603 of 690 swings with just 87 errors.
On the service stripe, Myers converted 182 of 203 for a 90 percent split.
Staked by her state performance, Myers had her name called as a second-team all-tournament team member.
"Jada had tremendous growth last year and grew even further this past year," Barton said. "Her blocking improved, she was deadly on oversets and pretty unstoppable when she got back to hit and pounded it. The impact she had on the net was a big part of our success."
Popchock showed her worth as a versatile middle and outside player, and she always displayed her defensive prowess with digs and saves to keep rallies going.
The second-teamer totaled 150 kills on 307 of 377 swings, and notched an 88 percent rate on serves, on 143 of 162 tries.
"Ana is a strong hitter and had several faceplant-type swings during the season, both hitting and serving," Barton said. "She started jump-serving late in the season, just before our first state game. She looked at me and said, 'I feel a lot more comfortable doing it this way.' I said, 'Go for it.' She did and didn't look back."
As an incoming senior in the 2018 fall season, Sprouse will be counted on to replace the 331 kills left behind by the departures of Allie Noland and Popchock.
The outside hitter had a knack for making the big plays and her service game kept opposing teams on their heels.
Sprouse was third on the Redside squad with 179 kills on 464 of 569 swings, and she went 202 for 219 on serves for 92 percent.
"Kyrsten is one of our toughest servers. She reads really well and plays great defense," Barton said. "Kyrsten is a good athlete, with great jumping ability. She plays middle blocker one rotation and that is a pretty tough job for someone her height. Her outstanding skill, is her ability to read and play defense."
Sprouse and Myers are going to be two of the strongest hitters on the court for the Redsides next season, and their games should be elevated by the play of Jacqueline Noland.
Her maturity, attention to detail and all-around game proved to be a valuable weapon for SWC, and her leadership will soon follow as she approaches her senior season in 2018.
Noland posted 111 kills on 251 of 292 swings, and she whistled home 339 of 363 serves for 93 percent.
"Jacqueline is a great athlete, who doesn't know she is a great athlete," Barton said. "She seamlessly transitions as a setter, once in a while cuts loose on a hit, got a lot of blocks at state and makes about 20 saves a match. At the end of the season, she was a serving demon, moving her serve all around, doing whatever she wanted to do with it. It was fun to watch."
Barton gave praise to her all-league recipients and up-and-coming underclassmen: Jade McCoy, Reese Millis, Laurynn Davis, Jenna Wraught and veterans Madisen Davis and newcomer, senior Emily Ellis.
Millis and Ellis endured bad luck with injuries, but still were supportive of their teammates through this state journey.
After tearing her ACL, while at Ridgeview in 2016, Ellis tore both her ACL and MCL on her first jump in practice, but chose not to have season-ending surgery, but instead use a brace and worry about surgery later.
Her team-first mentality helped acclimate herself to the group.
"I would say that most people did not get to see the real Emily play," Barton said. "All of us in practice got to see flashes of her and appreciate all that she brought to the team.
"She has strength, good volleyball knowledge and skill. It was unfortunate that her leg slowed her down and kept her from being the player she truly is."
Wraught received the team's Most Improved Player award, and Madisen Davis, a junior team captain and three-year starter, won the team's Best Server award.
One of the biggest all-league snubs, Davis served at 85 percent, making good on 227 of 267, and she tacked on 92 kills on 263 of 315 swing tries for a .127 percentage.
"The team took on the challenge of letting go of mistakes and becoming more resilient and Maddie's leadership in this area was invaluable," Barton said.
"Maddie is a tough all-around player with her strength in serve-receive. She also battles hard on the net. Her outstanding skill is her tough serve, which her teammates hate to return."
More like this story
Latest stories
Latest video:
Mosier oil train fire
Clips from oil train fire in Mosier, Friday, June 3, 2016. by Mark B. Gibson/The Dalles Chronicle. Enlarge