Saturday, November 18, 2017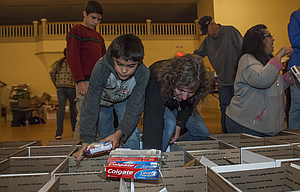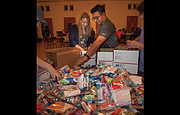 Eighty-five boxes are on their way to troops in Afghanistan and elsewhere in the Middle East thanks to the generosity of area residents, reported Chris Mumford, co-chair of the Holiday for Heroes Committee, on Friday afternoon.
"The only word I can use to describe the wonderful thing that people did is 'Awesome!'" he said.
Not only did community members from The Dalles, with support from Hood River, contribute enough snack and hygiene items for the care packages, they donated almost $5,000 to the cause.
Mumford said the funding will enable the committee to send an additional shipment to men and women who will not be home with their families for Christmas.
"I'm sure the guys and gals in the desert are going to have a little better Christmas because of people's generosity," he said. "We always need to remember that they are in harm's way and need our help, not just at Christmas but all year long."
Mumford partnered with Elizabeth Wallis, general manager of the Civic Auditorium, to form the committee, which was comprised of representatives from service organizations and businesses.
The Dalles Outpost of Point Man International Ministries collected monetary donations and provided people with tax-deductible receipts.
On Thursday, the committee invited people to pack boxes at the Civic that included drawings and well-wishes from students of local schools and children who were present. About 50 volunteers showed up to enjoy a chili and hotdog feed and then perform the assorted tasks of organizing and bagging or boxing items.
Mumford's band called "Got Your Six," which raises money for veteran causes, performed during the evening.
"A lot of people stepped up to help and the soldiers were very excited to hear that these boxes were headed their way," said Dan Brophy, chaplain of Point Man.
Two of the units who will be receiving the boxes have promised pictures, which the committee plans to post in The Chronicle so people will be able to see the joyful moments they helped create.
The third group is a Marine special operations team, so they cannot send photos for security reasons.
"We are beyond thankful for the support of our brothers and sisters back home," said one of the warriors in Afghanistan after learning that boxes were headed their way.
More like this story
Latest stories
Latest video:
Mosier oil train fire
Clips from oil train fire in Mosier, Friday, June 3, 2016. by Mark B. Gibson/The Dalles Chronicle. Enlarge