Saturday, November 18, 2017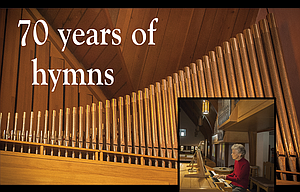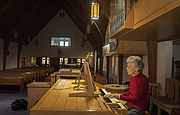 When she was 14 years old, ­­ Phyllis Ronfeld started playing the organ for Zion Lutheran Church. That was in 1946, just after the end of World War II.
Plenty of things have changed since then, but not Ronfeld, who is still playing the organ 70 years later. Zion is celebrating the remarkable milestone this Sunday, Nov. 19.
Ronfeld points out that the 70-year claim does require something of an asterisk, since she didn't play during the summers when she was in college, and did a few brief stints playing at other churches, but she always came back to Zion, where she was baptized and attended Sunday school.
She hadn't thought about the big milestone coming up until she was talking with someone over the summer and mentioned that she'd started playing when she was 14. Zion Lutheran Pastor Tyler Beane Kelly, who was in on the conversation and knew that Ronfeld was 84, quickly did the math.
"He talked about 70 years and I guess that is a little while," she said. "It's been pretty continuous playing, which I have thoroughly enjoyed. I like it, it's nice to do something you enjoy."
Ronfeld has her humility thoroughly intact, and points out that her longevity may be explained by lack of competition.
That wouldn't fly with former Zion Minister Chris Kramer, who said of her in 2013 that when he first heard her play, he thought "Wow!" He said he expected that quality of musicianship in a major metropolitan area.
She's seen many changes over the years. In the 50s, The Dalles was a boom town with construction workers building The Dalles Dam. Zion had two services, three children's choirs and an adult choir. She got to accompany some of them in what was an active music schedule. She loved it.
She also used to play weddings regularly at St. Peter's Landmark, back when there'd be one or two weddings a weekend. Now that has dropped off to almost nothing.
Over the years, she saw multiple ministers come and go. One was adamant that "Here Comes the Bride," drawn from a Wagner opera, was inappropriate music to play at weddings, so he outlawed it, she said.
Other ministers, depending on their interest in music, would get more or less involved in what she was playing.
She's practicing less nowadays, owing to health issues for both her and her husband, but still plays several times during the week and then before services on Sundays. She chooses music for before the service, during offering and at the end. She also has to practice the hymns for that week.
One thing she does admit to having a gift for is sight reading, which is the ability to correctly play sheet music the first time she sees it. It works well, she said, so long as the piece isn't overly difficult.
"I wish you could hear some of those I did way back for my college recitals. Some of those were terrific numbers," she said. But she can't even play them on this organ because it only has two manuals, or keyboards, and those numbers required three manuals.
When people find out Ronfeld is an organist, some don't even know what organs are. But a common reaction is to be impressed, with comments about how difficult it must be to play.
The organ not only has at least two keyboards, it also has a keyboard for the feet, plus "stops" that change the sounds produced.
While the organ is an intimidating instrument, with many times more keys than a piano, and a requirement to have the coordination to play with both the hands and feet, Ronfeld said in 2013 she was never intimidated by it.
In fact, she wanted to play it because her cousin did, and she idolized her.
She also played the piano. As an only child, she said she practiced lots.
After college, she taught bookkeeping, typing and shorthand at the high school for a few years, and then quit when she became a mom.
The only downside to playing has been her perennial concern over whether the audience is enjoying the music. "Sometimes you think they aren't listening. Is this worthwhile? And sometimes it's the other way around and they are spectacular."
She also worries about being accurate, and says sometimes, even now, she gets nervous. But, she adds, "that's just the way it is."
The times when she most enjoys playing is when she accompanying a choir, a vocalist, or the church's bells on Reformation Sunday. "I would really enjoy being part of it and playing a big number."
Kramer said in a 2013 story on Ronfeld, "the talent for her is she is a congregational accompanist. In the finest sense, a church musician's job is to help the congregation sing and that's what Phyllis does so beautifully."
Zion has a choir, but it only performs as a choir once a month, and the rest of the time the members are dispersed throughout the congregation as a way to have strong singers help others by keeping the tune everywhere.
And while she might be tempted to peek at the congregation to see if they are actually enjoying her music, she really can't anymore.
She's found that she reads her music better with her glasses off, but she can't see very far without them. "So that takes care of that."
Zion got its current organ sometime between 1975 and 1980, she said. Before that, a theater organ was used. She believes Zion has the best organ in The Dalles; few other churches even have them. In late December, she'll be 85, and working on her 71st year as organist.
She has no plans to retire, but doesn't know what the future holds.
There's not any one aspect of playing the organ that she enjoys the most, really, she said. "I'm just glad I can do it."
Latest stories
Latest video:
Mosier oil train fire
Clips from oil train fire in Mosier, Friday, June 3, 2016. by Mark B. Gibson/The Dalles Chronicle. Enlarge