Friday, November 17, 2017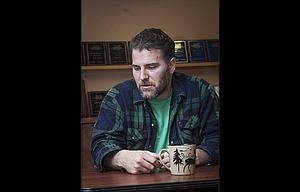 Joshua Farris said Thursday that he will not apologize to The Dalles City Council for his "outrage" on Monday, but he has apologized, and will continue to do so, to any audience member or citizen viewing a live stream of the meeting who was upset by his behavior.
"I've heard from people who said I made them uncomfortable — one woman who was there has PTSD — and I've told them that I was sorry for that," said Farris.
"I was just so blown away by the First Amendment issue that I was thrown off my game. I'm sure I could have gathered my thoughts and spoke in a way that was a little less abrasive."
His refusal to apologize to the city council for yelling at them, which caused him to be escorted off the premises by police, is based on his belief that the elected body appeared to have no qualms about violating people's free speech rights.
The overflow crowd at city hall was told by Mayor Steve Lawrence that they would not be allowed to comment on anything that was listed on the agenda, which is standard practice for the council. "I'm very surprised no one has gotten upset before," said Farris. "I think this is probable grounds for a lawsuit by some civil rights attorney — it is not acceptable. People have a right to comment."
He is, in fact, thinking of going in that direction if it is the only path to change the way the council does business.
There should never be a time, said Farris, when taxpayers are not allowed to weigh in on any issue brought forward by government officials.
"They are considering a ban on the homeless, a vulnerable population, and we are banned from talking about it at a public meeting. What is wrong with that picture?" he asked.

He went to the Nov. 13 meeting after spending about 20 hours researching the issue of homelessness in The Dalles and what their rights were, said Farris.
He talked with city officials, elected leaders, the American Civil Liberties Union and others about the issue to prepare a statement that he could read within the 5 minutes allotted for public comment.
His stance was going to be that the council would violate the Eighth Amendment rights of the homeless by "cruel and unusual punishment" if they established exclusion zones in the downtown blocks.
However, Farris arrived at Monday's meeting only to learn that he would not be allowed to bring up his points.
"The mayor was downright rude before the meeting and then he tried to shut me down," said Farris.
After hearing the accusation by Farris, Lawrence said: "I was not rude to him in any way. I explained to him the same way I did during the meeting." Lawrence said he was following council rules that are in line with the Oregon open meeting statutes.
"The Chronicle continues to give forums to anyone who wants to attack the council, whether or not they have legitimate claims," he said in response to a reporter's questions.
City Manager Julie Krueger said Thursday that she has never, in 30 years of working in municipal government, seen anyone else ejected from a meeting.
At issue Monday was a city staff recommendation that the council establish exclusion zones that would ban people who committed certain crimes from the downtown blocks for 90 days.
The crimes range from disorderly conduct and harassment to public indecency, littering, graffiti, theft and tobacco passion by minors to harassment, assault and strangulation.
Staff has also recommended the council amend the city's nuisance ordinance to prohibit camping in public places. The exclusion zones are meant to address problems like aggressive panhandling and loitering in tourist and shopping areas.
It was not his initial intent to introduce himself as a veteran, said Farris. He said his oath to protect the constitution "against all enemies, foreign and domestic," just flashed into his mind after free speech was shut down.
"I wanted to introduce myself as a veteran because I thought referring to my oath would make me as credible," he said.
Farris said his intent in asking Lawrence whether he was a "terrorist," was not an inference that the mayor was tied to an extremist group.
He said that he was trying to make the point that the mayor and council acted as "domestic enemies" if they didn't respect people's rights.
Lawrence requested to have Farris removed from the room when he accused the council of "fraud" and other wrongdoing in a strident voice that escalated in volume. The mayor told the audience, most opposed to the staff plan, that he didn't think it would be fair to take public comment on the recommendations because a hearing had not been advertised, so both sides would not be represented.
"People who pay attention were very aware that a controversial discussion was coming up," said Farris of that comment.
He also questioned why the city would hold a town hall on the issues and spend more money on staff time and resources instead of just taking comment at Monday's meeting.

Councilor Tim McGlothlin reminded the audience Nov. 13 that the council was made up of volunteers, but Farris said that doesn't mean there isn't accountability for their actions.
"If volunteers don't show up at the Warming Place where I volunteer then we can't open it," he said. "There are consequences for even the things you do as a volunteer."
After his outburst, people questioned whether Farris was acting out because of PTSD and posed a potential threat to local officials.
"I came home from Iraq with trauma, but I am not dangerous and I'm not a threat in any physical sense – I am just going to fight for my rights by being vocal," he said. "Rights don't mean anything unless you are vigilant and you fight for them."
Circulating on social media the day after Farris' outburst was the link to a report by Crosscut, a Seattle publication, from June 2015 that reported him as possibly facing charges for punching a man at a homeless encampment.
Farris was running in a heated primary election race as one of three city council candidiates.
"It was a smear campaign," he said on Thursday. "I was only defending myself after he attacked me, he grabbed me. There were never any charges, his complaint was dismissed, but that was never reported."
The journalist noted Farris stating that, if he did make it to the general election, he expected "other stories" to come out, on top of this one.
"Asked to elaborate, he seemed to backtrack, and pointed to an appearance at City Hall when he called the police out and was able to move Bruce Harrell (another candidate) to call the police idiots," wrote reporter David Kroman.
Farris said he was involved in several acts of civil disobedience while in Seattle and that was what he was referring to.
In one case, he and other activists worked to stop the eviction of a disabled man. There were also protests where he and other demonstrators were removed from the site by police.
After leaving four years of service in the Army in 2004, Farris earned his bachelor's degree in history and a minor in anthropology from Seattle Central College, Evergreen State College and the University of Washington.
He had enlisted at the age of 18 and travelled to countries of abject poverty and those that had a high quality of life.
A Calvary Scout, Farris was one of the "eyes and ears" of the Army when he deployed to Iraq in 2003. He had already served in Korea and Germany.
The scouts were an armored reconnaissance unit that arrived in Iraq shortly after Allied Forces marched on Baghdad and routed dictator Saddam Hussein's forces.
There were plenty of near-misses during a time of war when American warriors did not have up-armored vehicles and a lot of the technological advances available to troops today, said Farris.
On one occasion, he was spared harm from a roadside bomb blast due to a failure of the hinge on the back hatch of the Bradley Fighting Vehicle he was traveling in. Normally that entry point would have been open.
"The explosion was on my side and I would have been exposed," he recalls. "I think I had a guardian angel." He described his time at war with one sentence: "It was ugly, it just got worse."
When he returned to civilian life, Farris pondered why the U.S., with the greatest wealth in the world, had so many problems taking care of its at-risk and vulnerable populations. He worked as a community organizer and lived in a poverty-stricken neighborhood of Seattle where drug deals took place on a regular basis and a man was shot to death outside his front door.
"I think right now this country's better than it's ever been in some ways and in other ways it's worse," he said.
Farris returned to the Gorge last year with his life partner, Leslie, who is expecting their first child later this month. "I didn't really intend to get involved with the homeless, but I have experience in that area," he said.
More like this story
Latest stories
Latest video:
Mosier oil train fire
Clips from oil train fire in Mosier, Friday, June 3, 2016. by Mark B. Gibson/The Dalles Chronicle. Enlarge