Friday, November 17, 2017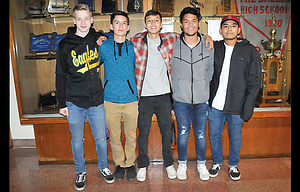 The Dalles boys' soccer team enjoyed a breakthrough fall season and five players, along with head coach Matthew Dallman, were rewarded for their standout performances through the regular season.
Taking first-team all-Columbia River Conference honors were midfielders, sophomore Alberto Gallegos and junior Jake Roetcisoender, and the trio of Reed Twidwell (forward), Julian Quintana (midfielder) and Pedro Lopez (midfielder) received second-team awards.
In a vote by opposing coaches, Dallman, the team's second-year head coach, picked up Coach of the Year after leading his varsity squad to a five-win campaign and a third-place outcome in league action.
Over the past few seasons, the Riverhawks have steadily increased their win total, going from two in 2015, four in 2016, to five this year, and they also added some extra scoring punch with Gallegos and Twidwell leading the charge, rising from 10, 20 and 31 goals over that same three-year span.
Added to that, after a two-year postseason hiatus, the Riverhawks vaulted into the postseason mix in back-to-back campaigns, and the team scored goals against perennial state contender Hood River Valley in two consecutive games.
Before that, the team did not hit the back of the net over a five-year span, including a 9-0 spread last season.
Although the Riverhawks entered state play-in action last weekend, a 4-0 loss at Sandy on Oct. 28, as winners of one of their last six matches, three of those setbacks were by two goals or fewer, two against the 5A classification's top-ranked school, Hood River Valley, and another was at home on Oct. 5 versus the 4A's No. 3 team, Mac-Hi (Milton-Freewater).
The one win, a 4-1 triumph, came on Oct. 17 at Pendleton.
As the team puts its attention on the 2018 season, Dallman lauded the play and leadership of his senior quartet of Lopez and Junior Ornelas, both team captains, along with Jose Gutierrez and Adan Ortiz.
With the departure of the four seniors, Twidwell and Roetcisoender are scheduled to be the top two returning seniors, and Miguel Aguilar, Omar Torres, Alejandro Gutierrez, Andy Lopez, Gallegos, Quintana, and goalkeeper Jaime Castro make up some of the core returning standouts that will vault the program to newer heights.
The Dalles is expected to have a good crop of talent coming up in the next couple years, with the middle school developing some good skill players, which is exciting for Dallman. Struggling for numbers this year was unexpected for coach Dallman and assistant coach Emmanuel Elias, but they still see future success on the horizon for this group.
"Next year will come down to having nine returning starters, who have now experienced that playoff pressure, playing under the lights in Hood River, on senior night, with a camera crew. That is all very intimidating stuff for 14-year-old and 15-year-old kids," Dallman said. "Next year, it will be a more comfortable and familiar feeling and we can hopefully put together better performances in these critical games."
During the two-and-a-half month fall season, the Riverhawks endured some obstacles and adversity, a lack of depth, and still had the wherewithal to overcome and make a postseason appearance.
While the season is over, Dallman emphasized the need for players in the program to keep active, whether in the weight room, in workouts, scrimmages, or whatever else to keep their skills sharper.
"To stay driven and improve, the boys will have to do some offseason work," Dallman said. "There is no club system locally, so it makes it hard. Almost everywhere else in the state, kids have multiple options to keep them engaged in soccer, year-round, which if you want to compete for state titles, you need a bulk of your players to be playing year-round."
However, Dallman can rely on the Gorge Soccer Academy and its reach to get more athletes involved in the sport.
The program's aim is to help with foot skills and fundamentals that are crucial to play at a competitive level.
GSA runs its Futsal Indoor program from November through February, then switches to outdoor action later during the spring months.
Dallman's indoor soccer league gives athletes of all ages the opportunity to keep playing games.
"This year, a lot of players on our team worked with the academy during the offseason, and I attribute that offseason work to our improvement," Dallman said.
To find out more about offseason soccer and any upcoming clinics or games scheduled, interested parties can log on to www.gorgesoccer.net.
More like this story
Latest stories
Latest video:
Mosier oil train fire
Clips from oil train fire in Mosier, Friday, June 3, 2016. by Mark B. Gibson/The Dalles Chronicle. Enlarge