Thursday, November 16, 2017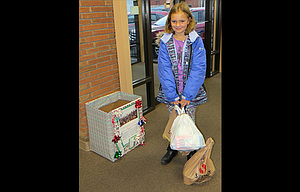 Evelyn Rogers, a third grader at St. Mary's Academy in The Dalles, wanted to celebrate her eighth birthday in September by helping people in need.
She asked family and friends to forego buying her gift and, instead, donate items for families who had been displaced by Hurricane Harvey in Texas in late August.
The hurricane that swept through the Houston, Texas area, was the costliest tropical cyclone on record, inflicting nearly $200 billion in damages, primarily due to widespread flooding.
After Rogers had collected food and hygiene items, she found out that organizations assisting families who had lost everything are now only accepting monetary donations.
So, she decided to talk with her parents, Brad and Renate Rogers, about what could be done with the items she had collected.
When they learned that the Holiday for Heroes Committee, a group of representatives from area businesses and service organizations, was packing boxes for troops in Afghanistan, Evelyn decided that she would donate to the cause.
"I just thought it would be nice," she said.
On Wednesday, she dropped toothbrushes, dental floss, shampoo and conditioner, hair ties, canned food and other items off at The Dalles Chronicle.
"I think they will be very happy," she said.
Because the size of the flat-rate shipping boxes won't accommodate the tennis rackets and balls she received, Rogers plans to give them to her church.
Due to a scheduling conflict with her school science fair, Rogers won't be able to join people packing boxes for the troops tonight, Nov. 16, at the Civic Auditorium, 323 East Fourth Street. However, she plans to drop off some hot chocolate.
That event starts at 5:30 p.m. with a hot dog and chili meal that will be served free to volunteers. The band Got Your Six, which formed to raise money for veteran causes, performs during the evening while children are drawing artwork for the boxes and during their assembly.
The care packages will be shipped by Pointman International Ministries to Oregon National Guard soldiers who train in Hood River and are now deployed to Afghanistan. Another military unit in the same area will also receive a shipment.
Holidays for Heroes has also arranged to send care packages to a Marine special operations team in an undisclosed location.
Rogers got the idea to make her birthday an outreach from a friend who enlisted donations for Home at Last Human Society. She thinks the idea of giving back is a good one and plans to make taking on a charitable cause part of every birthday from now on.
More like this story
Latest stories
Latest video:
Mosier oil train fire
Clips from oil train fire in Mosier, Friday, June 3, 2016. by Mark B. Gibson/The Dalles Chronicle. Enlarge