Tuesday, November 14, 2017
Video sponsored by First Community Credit Union, The Griffin House, and The Lyle Hotel.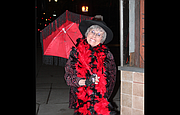 The Granada Theatre in The Dalles reopened last weekend with "act after act" of Vaudeville, local bands, dancers and country legend music performers in the newly rennovated historic theater, originally built in 1929.
Building owners Chuck Gomez and Debra Liddell organized the opening acts to include a bagpipe march, locally produced videos related to the theater, The Dalles High School Marching Band, silent movie clips, poetry readings, acrobatic and trapeze displays from Afterglow Aerial Arts, bellydancing from Columbia Gorge Bellydancers, a veteran's salute featuring Johnny Cash and Elvis tribute performers, local rock band Got Your Six, and a local barbershop quartet.
The new owners hope that the theater will provide a venue that will "welcome its guests to a kinder, gentler time — back when folks in town knew everyone, or soon became friends with new neighbors."
More like this story
Latest stories
Latest video:
Mosier oil train fire
Clips from oil train fire in Mosier, Friday, June 3, 2016. by Mark B. Gibson/The Dalles Chronicle. Enlarge