Saturday, November 11, 2017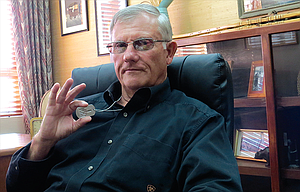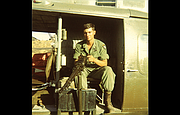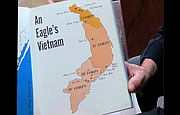 Roger Howe of The Dalles took his place in the long family lineage of military service when he enlisted in the Army in 1968 and shipped out to Vietnam the same year.
His brother Greg had joined the Marines and flew fighter jets over Vietnam. Their father, Jack, had been a Navy Seabee in World War II.
"I am a warrior — I'm a warrior for Christ and I'm a warrior for real," said Roger. "It is literally how God put his DNA stamp on my body. I have long ago quit trying to fight it, I just try to manage it."
Roger and Greg's mother, Peggy, kept the morale of her sons up during their respective deployments by doing everything from sending cookies in tennis ball cans that protected the delicious contents to writing poetry.
Roger arrived in the war zone in November 1968, shortly after Greg had returned to the States.
"I was in-country until February 1970, so I missed two Thanksgivings and two Christmases and that was tough," he said. "You know what your family is doing and you're not part of it."
His assessment of being stationed at Camp Eagle in the A Shau Valley during one of the most violent years of the war is: "I happened to be in the wrong place at the right time."
That valley is located near the Laotian border, runs north to south for 25 miles and has a mile-wide flat bottomland covered with tall elephant grass. It is flanked by densely forested mountains that vary from three to six thousand feet.
The A Shau was one of the major entry points of the Ho Chi Minh Trail into South Vietnam, a vital supply line for the North Vietnamese to get supplies, additional troops and communications to units of the North Vietnamese Army and Vietcong operating in the area.
Because of its importance to enemy forces, the valley was a target of continual major operations by the U.S. 101st Airborne Division, known as the "Screaming Eagles," which Howe was assigned to, and vehemently defended by the enemy.
Being a veteran of A Shau was viewed as a mark of distinction during one of the bloodiest years of the war. Howe's unit earned a Bronze Star for their performance in a time of rolling firefights.
"The number one thing for all of us was to survive and go home," he said.
Howe was trained in communications and assigned to Headquarters and Band Company. He coordinated supply drops to outposts where men lived in primal conditions. However, his desire to evade time behind the desk made him a "jack of all trades" and he was frequently out in the field on some errand.
"I do not consider myself a combat veteran, although I was surrounded by combat," he said.
Despite his self-deprecating words, Howe earned the "Soldier of the Month" award out of 2,000 soldiers in his battle group during 1969. His commendation from Colonel W.J. Bradley stated that Howe had been given the award due to "leadership qualities, exemplary soldier's bearing and a desire to excel."
"I just started applying myself more and more," Howe said of his service.
Although there was greater safety on the base than soldiers had outside the wire, Howe remembers incoming mortar rounds and standing watch on the perimeter when enemy fighters tried to infiltrate.
He said it was difficult to stay awake during long nights on guard duty, until the body of an insurgent was spotlighted not far from his post by an attack helicopter.
When reality got too graphic, Howe conjured up a favorite boyhood memory: Spending time on a farm owned by his aunt and uncle along the Siletz River in Oregon. "I would bring up that scenario time after time because it was peaceful and serene," he said.
Born and raised in The Dalles, Howe had enlisted in the Army at the age of 19, after a year "as an average" student at college.
"I just felt it was my duty," he said. "I was not contemplating the justice of the war, in that period of time you just served."
He went to boot camp at Fort Lewis in Washington and then received training as a clerk at Fort Huachuca in Flagstaff, Ariz. Later the same year he was on a plane with about 400 other soldiers headed to Vietnam.
"I had no anticipation of coming back," said Howe. "That is a hard concept."
One night the movie "Sound of Music" was playing on an outdoor screen and, while the theme song with the lyrics, "The Hills are Alive with the Sound of Music" was being sung by the cast, the air at the camp filled with the sound of incoming mortars.
"The music was playing and I thought, 'No one's ever going to believe this,'" said Howe. "Our sense of humor got pretty morbid."
Another time he was seated next to the door gunner in a helicopter when red tracers were "walked in" to their location to pinpoint targets for live rounds.
"I got lucky on that one," he said.
Howe remembers the flies and bugs that swarmed the camp and made life miserable for the soldiers. He and others sat outside at night watching the glow from explosions in the forest where fierce firefights seemed to always be underway.
"I just talked to God during quiet times and thanked him for helping me make it another day," said Howe.
He saw men risk their own lives to save others, and soldiers who abused their power. "War is a place that gives you the opportunity to do good things or bad things," he said. "I had a healthy conscience — I knew right from wrong — and I chose right."
He befriended a young girl who did laundry for the soldiers and she came to view him as a father figure.
When she heard he was leaving, Howe said the girl made him a photo album as a gift to thank him for his kindness. He still has the binder among his war memorabilia and often wonders what happened to her after U.S forces left.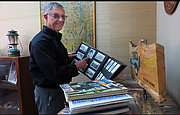 "I have no idea if she's alive or dead. I hope she made it, I hope she's here," said Howe.
A USO show he attended on Dec. 4, 1969, with about 3,000 other soldiers, starred Judith Ford, Miss America in 1969, and watching her perform made him homesick.
"I realized how beautiful American women were," he said. "She was so sincere, just a class act. The fact that she cared enough to do that show meant a lot. Our base was invaded by color, music and pretty girls that night."
When he was a month from coming home, Howe dared to believe that he was going to make it. He had only talked to his folks once during his time at war.
"I got to say Merry Christmas and I got about a minute," he said.
He said soldiers within a week or so of going home were known as "ghosts" and became very superstitious about leaving the wire, as if the fates conspired against them.
When he arrived back in the Northwest, Howe first noticed the clean air, breathing deeply to enjoy its freshness.
There had been no debriefing, which Howe said was a big mistake because the shock of walking into the civilian world from a war zone was almost too much to take.
He found himself keeping an eye on everything going around him, looking for the hidden dangers, and he had combat-related nightmares. He kept a loaded gun handy and within easy reach at all times.
"It got better but I'm still very aware of my surroundings — especially when I'm in Portland or another crowded place," he said. "It's unfortunate but it's one of the consequences of being in a war."
He left the service with the following decorations to add to his Bronze Star: Good Conduct Medal, Army Commendation Medal, Vietnam Service Medal, Expert M-14 Medal, Sharpshooter M-16 Medal, National Defense Service Medal and two overseas bars.
Like most vets, Howe sits with his back to the wall at a restaurant so he can surveil the room.
"If something goes wrong, I'm going to attack with every ounce of my being," he said.
Howe also looks up periodically to check out the skies for incoming rounds and aircraft.
"I am absolutely in tune with my environment," said Howe.
He has an exaggerated startle response, which friends and family members have learned to respect.
"Announce that you are coming and don't come up behind me and touch me because I'll put you on the ground and I won't even know I've done it — it's a total response," he said with a twinkle in his eye and a smile.

Howe left the military after 19 months and four days and picked up the thread of his civilian life on both the career and volunteer fronts.
"I came back with a drive to give back to my community. I think that was a good thing," he said.
He finished Eastern Oregon College in La Grande and said because the community was conservative, he didn't suffer the abuse heaped on Vietnam veterans in liberal areas with a lot of anti-war activists.
"I was not in a position where we were disrespected," he said.
He feels that The Dalles was also supportive of its returning Vietnam veterans.
"This is a very patriotic little town, I'm very proud of it," he said.
Howe became an insurance agent and owner of Kargl, Elwood, and Geiger, where he worked for 42 years.
Like many veterans, he retained an adrenaline addiction that cried out for excitement. He chose to appease that element of his nature by helping others, such as becoming a team leader for Wasco County Search & Rescue, a reserve deputy and a medic/firefighter.
He received several awards for his volunteer work, including the title of Outstanding First Responder in 2015 from The Dalles Area Chamber of Commerce.
"You can escape the reality of war; the question is whether you do it in a healthy way or an unhealthy way," he said.
Over the years, Howe has seen plenty of men of his age claiming to be Vietnam veterans.
He said you can tell the difference between fake warriors and the real deal fairly easily. "It all comes down to one sentence," said Howe. "And that is 'Welcome Home.' If they are true vets, they will respond in the same manner, sometimes with a tear in their eye."
Ten years ago, Howe went to Washington, D.C., to visit The Wall, the Vietnam Veterans Memorial. The experience was deeply emotional.
"I left one set of my dog tags there. I've had the other ones on since 1968," he said.
More like this story
Latest stories
Latest video:
Mosier oil train fire
Clips from oil train fire in Mosier, Friday, June 3, 2016. by Mark B. Gibson/The Dalles Chronicle. Enlarge