Wednesday, November 8, 2017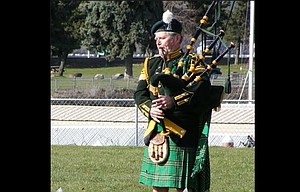 The Granada Theatre is set to reopen to great fanfare this weekend, and the owners are ecstatic about the gala they have choreographed for Friday evening.
"Our excitement is building like a volcano ready to erupt as we near showtime," said Chuck Gomez, who jointly owns the theater with his partner, Debra Liddell.
"This will be a night of Vaudeville, of act after act, performers after performers, entertainment presented at light speed where time stands still. Please enter our time machine."
Gomez and Liddell have assembled an eclectic cast of players for the grand opening festivities, which will stretch over three days.
Gomez said he would like the entire community to feel the level of passion he has for the theater, which first opened in 1929.
"The Granada Theatre will reopen its doors and welcome its guests to a kinder, gentler time," Gomez said, "back when folks in town knew everyone, or soon became friends with new neighbors; neighbors on the street or neighbors sitting next to and around them in the theater."
Mayor Steve Lawrence echoed Gomez's anticipation.
"This is just what the downtown needs," said Lawrence. "I plan to be there for the opening night, and maybe the second night for veterans. This has generated a lot of excitement in town, and I look forward to a great opening weekend."
Timothy McGlothlin, a member of The Dalles City Council, also expressed enthusiasm for the reopening of the theater.
"I am excited to see a distressed building that was on the road to demolition breathe a new life," McGlothlin said. "Some buildings are simply walls, floors, and a roof, but the Granada is a special building, a place where dreams were made. The Granada will once again live, and that pleases me greatly."
Friday's celebration will begin at 6 p.m. for about 45 minutes of "friendship & fellowship." As the clock nears 7 p.m., Liddell and Gomez will welcome guests and treat them to a "bagpipe march" performed by Rory O'Halloran of The Dalles, formerly with the All-Ireland Pipes & Drums group of Portland.
"He has been a bagpiper since his early college days in the mid-1970s," Gomez explained. "He has 'piped' for many occasions and celebrations of all kinds, including weddings, memorials, parades, and grand openings. He truly loves providing a bit of Celtic culture." According to Gomez, at 7:20 p.m. on Friday, a tightly choreographed, non-stop entertainment "sampler" will begin. First, there will be an organ solo from Jonas Nordwall, a virtuoso equally skilled in traditional classical and modern/popular schools of musical performance.
Ten minutes later, Gomez will present a brief video of Lawrence handing over the keys to the theater, which took place on March 31.
Every 10 minutes after that, the acts will change in a rapid-fire succession. At 7:40, The Dalles High School Marching Band's drummers, grades 9 through 12, will perform; at 7:50, Jonas Nordwall will make a reappearance; there will be a snippet of a silent movie from 1929; cowboy poetry at 8 p.m. with the reading of "The Shooting of Dan McGrew," a poem written by Robert Service.
In the wake of the poetry reading, the activities literally take off with an acrobatic and trapeze display from Afterglow Aerial Arts, who, according to Gomez, will provide "a visual spectacle featuring performers of all ages doing various aerial acts on and above the stage."
At 8:25, the crowd will hear a selection or two from Steven Kent, an act out of Nashville who describes his music as "a night filled with Johnny Cash & Elvis." Gomez added that Kent and his band will be on stage Saturday night for a concert devoted to veterans.
And the acts will just keep coming. At 8:35 p.m., the Columbia Gorge Bellydancers, with local belly dancer Desiree Mann Cozad leading the way, will take the stage for a brief performance. Then it will be the River City Dudes and the Barbershop Quartet of the Gorge.
In the wake of those acts, Gomez said there will be a "surprise grand finale" at around 9:15 p.m. to wrap up the activities.
Even with the rapid pace of the shows, Gomez expressed confidence that he will be able to pull everything off effectively.
"I used to do a live two-hour radio holiday show with 22 acts and working it to the minute, without any rehearsals," Gomez explained. "I just have a knack for it."
The pace will slow for the Saturday and Sunday portion of the weekend, with longer shows being planned.
On Saturday, there will be two concerts geared to veterans, with free admission for all who served. The show will start at 7 p.m. and feature Got Your Six, The Dalles' own five-piece classic rock band that is made up of military veterans from the Columbia River Gorge. Then at 8 p.m., Cash & King — theJohnny Cash & Elvis Presley tribute band from Nashville — will take the stage.
Sunday's performances will focus on families, with the Afterglow Aerial Arts & Indoor Circus show starting at 2 p.m.
Tickets for the Friday night "Gala" cost $59. Saturday's veterans concert is $25, with tickets free to all veterans. Sunday's Aerial Arts performances are $25 for adults; $10 for kids under 12; and $15 for seniors 65 and older. An adult package for all three days costs $95.
Tickets are available online at granadatheatrethedalles.com or by calling the Granada box office at 815-993-6585.
With the packed lineup of acts to celebrate the theater's rebirth, Gomez said the community is in for quite a weekend.
"When was the last time you said to yourself or your family that there wasn't anything to do in town? Well, you don't have to say that this weekend," Gomez said. "Thirty plus performers, 12 acts and a surprise finale right here in The Dalles!"
Video courtesy Immense Imagery.
More like this story
Latest stories
Latest video:
Mosier oil train fire
Clips from oil train fire in Mosier, Friday, June 3, 2016. by Mark B. Gibson/The Dalles Chronicle. Enlarge