Saturday, November 4, 2017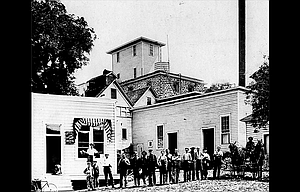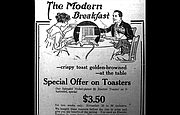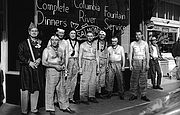 20 years ago – 1997
The city council had just toured the water treatment plant earlier that day. At about 10:30 that night, the plant's antiquated control system, scheduled for replacement next year, started acting up. "It started shooting buttons across the room," The Dalles Water Quality Manager Dave Anderson said. As soon as one was put back, another would spring off the control panel.
Firefighters and educators in Wasco County had cause for celebration this morning as money measures passed locally and around the state. Wasco County voters passed a new fire station bond for Mid-Columbia Fire and Rescue and mirrored the rest of the state in defeating Measure 51, which would have repealed physician-assisted suicide, and passing Measure 52, lottery bond funding for schools.
Federal District Court Judge Malcolm Marsh dismissed the latest challenge to the recovery plan for Snake River salmon, rejecting environmental and fishing groups' objections that the federal government wasn't doing enough to protect the endangered species.
A second bid, nearly 50 percent lower than the first one, has made the Ft. Dalles museum bathroom project more viable. Wasco County Tuesday opened a bid for $34,870 from North Central Oregon Construction Inc., a far cry from the $61,000 the city and county have budgeted for the project.
40 years ago – 1977
Off we go, into the wild blue yonder… It wasn't planned that way, but the radio control gear on Mike Hamilton's $200 model airplane went haywire last weekend, and the beautiful white and black plane zoomed off into the clouds, never to be seen again. Hamilton, The Dalles, is advertising a $25 reward for the plane.
"Idiotic archaeologists will climb anything in search of ancient ruins!" And thanks to Dr. Ann Bennett, who is quoted above, those who attended Friday's Contemporary Lecture series were able to envision Petra and its ancient ruins through a series of narrated slides. Dr. Bennet is sold on camels as a form of transportation, "much better than horses," she said, although conceding that not everyone would agree with her.
Two bond issues are on the ballot in Oregon Tuesday. Measure No. 1 would create a state fund to support the development of water projects for irrigation. Measure No. 2 would create a fund for the development of non-nuclear power facilities. Until recently, little opposition was surfaced on either.
Want a pleasant Sunday experience? Try the special exhibition and sale of original oriental art, The Dalles Art Center, 1-5 p.m. About 500 pieces of art from Japan, China, Tibet, Nepal and Thailand from the Marson Collection will be for sale. The oldest prints date to the 18th and 19th centuries.
60 years ago – 1957
Bueford H. Lackey, 34-year-old employe of the Nichols Construction Co., lost his balance this morning at about 10:30 a.m. and fell nearly 30 feet off a steel tower being constructed east of The Dalles to carry power lines from the dam. Hospital authorities said Lackey suffered a possible ankle fracture plus other more minor injuries. He is considered in good condition, they said.
LONDON (UP) – Soviet boasts that Russia had developed a fuel capable of driving a rocket 25,000 miles an hour increased western belief today the Russians may try to hit the moon Thursday with a missile carrying a hydrogen warhead. There already had been widespread speculation among British and American scientists that Russia may already have launched such a rocket in belief it would light up the darkened face of the moon during Thursday's eclipse – and in celebration of the 40th anniversary of the Bolshevik Revolution. The moon is about 241,000 miles from Earth.
The problem of cattle being sent to Goldendale, Wash., for auction without required certification is being studied by local livestock inspector Eldon Beckner and District Attorney Harry Hogan.
Next Monday will be observed formally as a holiday by governmental offices and schools in Wasco county in acknowledgement of Veterans' Day. The Nov. 11 commemoration also will climax the observance of Veterans' Week in The Dalles as designated by proclamation of Mayor John Craig.
80 years ago – 1937
The annual American Red Cross membership drive will open here Armistice day and continue until Thanksgiving. Mrs. Bert M. Keith, who recently was appointed roll call chairman by The Dalles chapter of the Red Cross, has announced that the goal this year again is 1200 memberships. Approximately 80 workers are included in the committees appointed by Mrs. Keith and her co-chairman, Miss Rita Obarr.
SALEM, Nov. 5. (UP) – The state supreme court today set Wednesday, November 17, as the date for hearing on a pinball test case appealed from Polk county. The case was appealed by the state after Judge Arlie G. Walker held for the defendant, C. C. Coates. The state contends that pinball machines constitute a lottery because of the element of chance, and despite the fact that the 1935 legislature authorized counties and cities to license pinball and dart games.
SAN DIEGO, Cal., Nov. 5. (UP) – The trim speed plane that zipped from Canada to Mexico yesterday in the record time of 4 hours and 54 minutes was put up for sale today by Frank Fuller Jr., San Francisco sportsman. Fuller said for the time being he is "through" with speed flying and will sell the Seversky racer if he finds a buyer.
100 years ago – 1917
Food Conservation "slackers" are to be given another week to line up with Uncle Sam, according to advice which was received here today from Arthur Churchill, state manager of the pledge-card campaign.
Herschel M. Philips, son of Mr. and Mrs. T. B Philips of this city, who has been at the naval training station at Mare island, has passed the preliminary examinations in electrical engineering. He has been transferred to Harvard university where he will complete the course before entering the regular naval service.
WASHINGTON, Nov. 5. – The supreme court today decided that the Louisville & Nashville railroad must publish the expenditure of certain funds under the president's personal direction. The railroad is alleged to have a huge corruption fund for the purpose of maintaining lobbies, bribing officials and corrupting legislatures. The decision gives the interstate commerce commission authority to probe the innermost secrets of the railroad's political conduct.
HOQUIAM, Wash., Nov. 5. – An unsuccessful attempt was made last night to wreck a Northern Pacific train with dynamite. Seven sticks of the explosive were found attached to the rails in such a manner that they would have exploded had the train hit them.
More like this story
Latest stories
Latest video:
Mosier oil train fire
Clips from oil train fire in Mosier, Friday, June 3, 2016. by Mark B. Gibson/The Dalles Chronicle. Enlarge