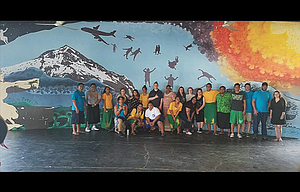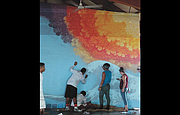 An April trip to American Samoa by eight Wahtonka Community School students saw them paint a huge mural at an open air high school cafeteria in the island territory.
When they touched down in Samoa and saw the 38-foot-by-13-foot canvas, they were a bit daunted, they told The Dalles Kiwanis Club members last week.
They gave a presentation to the Kiwanis since they helped sponsor the trip.
"We had doubts," said student Caroline McCowan. "We heard it was small, tiny and we got there and it was not tiny at all."
But she added, "I think it ended up really, really well."
The idea for a trip to Samoa was born when Samoan students visited the school last year. Students began fundraising, and Brian Goodwin, principal at the school, had success in applying for grants.
Hawaiian airlines gave the school eight round trip tickets for the students and then the Ford Family Foundation decided to fund the trip, paying for meals, van rental, airline tickets for the adults, and for the artist.
Artist Dylan McManus created the mural, which blends features of both the Columbia River Gorge and American Samoa. It features Mt. Hood and a giant sun with a curling wave.
WCS teacher Krystal Klebes said, "We actually used local plant life as texture of the mural." They made stencils from the plant life and applied them to the mural.
Each of the students is represented in the mural. Student Jordan Taala-Lutu decided to be sitting on the moon.
McCowan is sitting criss-cross, and somebody held up her hair for the photo that was taken to create the silhouette, so it looks like she's flying and her hair is windswept upward as she calmly meditates.
The students were allowed to sit together on their mostly empty flight to Samoa, which was a relief since it was the first flight for many of them.
When they landed, they were greeted with a welcoming ceremony. They learned it is customary throughout Samoa, and every home has an open-air guest house for such purposes.
"I thought that was a real cool thing that we saw," Klebes said.
Klebes said the trip was about getting the students to connect with someone in "a whole other place of the world."
McManus has done murals with at-risk youth in Wyoming, and purposely left the design of the mural loose enough to allow input from the students themselves.
"The piece symbolizes the journey that all children undertake through education and life, and most importantly the symbolic 'leap' that these kinds from WCS took by taking on such a staggering project, with many of them having never been further from home thanPortland," McManus said.
He said, "It was life changing for the students, and in many ways for myself as well. The kids at Wahtonka really shined, and I am so proud of each and every one of them. This wasn't an easy task they accomplished."
Student Kiera Henderson said, "Every day we were there we woke up at six a.m. We couldn't sleep. We woke up every day full of energy."
The students went through a slide show that posed certain questions. Taala-Lutu took the question that asked, "what didn't go well," and got a laugh when he said, "Everything happened the way it was supposed to."
He said chicken and rice was the go-to meal, and raw fish was also popular.
They also learned that American Samoa, nudged right up against the international date line, is a day behind Samoa, the independent country less than 100 miles to the west.
The students also got to visit high chiefs in their homes, where they saw numerous cultural artifacts.
Henderson said she came home with "memories and stories to tell."
Klebes said she "definitely brought back a huge sense of Samoan culture," and Emily "Batman" Opbroek said she developed a deeper connection with her fellow students.
"None of us were really friends. We all knew each other, whatever, but we definitely became closer. Not only did I make memories, I bought back seven new best friends.
"No matter how old I get, you'll all be the ones that were on the plane together."
Taala-Lutu said his takeaway from the trip was, "I came back with a lot more to think about. It was a beautiful time. Everything was new, fresh. It gave me a whole new perspective."
Taala-Lutu, who is half Samoan, said the trip was "humbling, too."
He added, "When I came home I was trying to speak Samoan to my mom. She thought it was really funny."
Tyler Beane Kelly, a chaperone on the trip, said he was struck by the "generosity of the Samoan people in welcoming us …. The Samoan people have this different appreciation for people than we do. Americans take more time to build trust — are you in or are you out? — and Samoans are just 'come, welcome, be with us.'"
Sala Iaulualo works at WCH and is from American Samoa, her brother helped facilitate the trip.
She grew emotional as she credited Klebes with facing obstacles during the stay and soldiering on anyway.
Kiwanian Dennis Morgan said, "I'm impressed and I hope you take what you learned and you can go out in the world and use it." He also got emotional and said, "I'm sorry, you touched me."
Kiwanian Laura Comini said, "I love it that you came back family. You're going to carry this the rest of your life and you will be family.
"This is a trip, a vacation and an experience that nobody can take away from you."
Kiwanian John Nelson said, "They all went outside their comfort zone and I think it shows a lot of courage to do that."
He said the experience will come back in years to come to help them in unexpected ways.
More like this story
Latest stories
Latest video:
Mosier oil train fire
Clips from oil train fire in Mosier, Friday, June 3, 2016. by Mark B. Gibson/The Dalles Chronicle. Enlarge