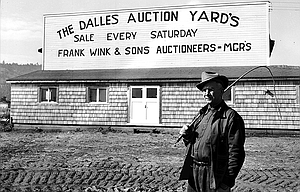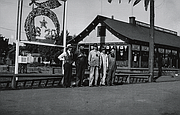 20 years ago – 1997
WASCO – "Volunteerism" was the theme for the 1997 edition of the Wasco Memorial Day Celebration, and this quality was much in evidence for most of the one-day event on Monday.
Shaving over $1 million from its 1997-98 general fund budget means Wasco County has to take cuts in virtually every department. Some are the result of layoffs, others the result of not filling vacancies. The sheriff's office, for example, will not fill three vacancies, including a clerical position, a road deputy and jail staff, County Judge John Mabrey said. Cuts have been felt everywhere else, from animal control to the nursing home and the library.
Looking for something to do this weekend? No problem – just head down to Maupin, which holds its ninth annual "Maupin Daze" community celebration May 31 and June 1. This year's theme is "River of Dance," featuring a new competitive kayaking event called the "Whitewater Rodeo."
MOSCOW (AP) – Even as Boris Yeltsin proclaims a new partnership with NATO that may ease tensions off Russia's western flank, a potentially grave security threat to Moscow has emerged a continent away. The Kremlin and its former Soviet partners are increasingly and openly alarmed about the rise of a radical Islamic state in Afghanistan, fearing an influx of refugees and arms they say could unleash instability across Central Asia.
40 years ago – 1977
One night next week, a man in the control room at The Dalles Dam will turn a switch opening a spill gate, permitting 30,000 cubic feet of water per second to shoot downstream. The spill will enable fingerling salmon and steelhead to continue safely on their migration toward the Pacific Ocean. If the water were not spilled, the fish would be pulled through the dam's power turbines.
Seventy-two graduates received diplomas at Wahtonka High School last night. Valedictorian Sue Hammond urged classmates to accept the responsibilities of the adult world as they moved into it. Music for the program was by Mt. Hood Jazz ensemble including some former WHS students.
By 6 a.m. today, 24 people had been killed in Memorial Day traffic accidents.
ONNEN, The Netherlands (UPI) – Dutch authorities today warned the Moluccan terrorists "an attack is possible" should anything happen to 60 hostages still held at gunpoint in a train and school which they seized in a coordinated assault six days ago.
60 years ago – 1957
Patrick Dale Lester, 26, was bound over to the Wasco county grand jury on a car theft charge yesterday afternoon and is scheduled to go before Justice of the Peace L. M. Martin on a charge of assault with intent to kill.
NEW YORK (UP) – In Kentucky, bartenders are forbidden by law to sell drinks to men who are not supporting their families. In Michigan, the law against free food with liquor is so strict taverns cannot even put potato chips, peanuts or popcorn on the bar.
Pennsylvania bars must have enough food, tables, chairs, silver, chinaware and cooking utensils on hand to convince an inspector they could serve a meal immediately. In Indiana, cocktail lounges must not be dimly lighted.
OREGON CITY (UP) – Hundreds of gallons of moonshine whiskey, 16 barrels of mash, and an elaborate stainless steel distillery were seized by Clackamas County sheriff's officers late Monday. The operation was described as one of the most elaborate ever seized in Oregon.
ATOMIC TEST SITE, Nev. (UP) – The United States today fired the first of a long series of atomic test blasts amidst a world atmosphere of disarmament talks and controversy over radiation effects on humans.
The "battle-sized" nuclear device was touched off in the predawn darkness of the Nevada Proving Grounds, the 65th detonation in the U.S. program of nuclear and thermos-nuclear "peace lies in strength" weapons testing. AEC test manager James E. Reeves told newsmen: "We feel certain we have obtained the scientific data which justified conducting the test."
SAN FRANCISCO (UP) – A court-martialed sailor went berserk today, killing an officer, wounding two other men and eluding capture for more than six hours before he surrendered to the pleadings of his mother and two chaplains.
80 years ago – 1937
Massed opposition against ordinances now under consideration by the city council to place food establishments and personal service shops under stricter sanitary regulation will be made by grocery store, meat market, restaurant, bakery, barber shop and beauty parlor proprietors when the council meets next week, it was disclosed today by Roscoe Krier, attorney, who said he was representing virtually all establishments in the city affected by the proposed regulation. Krier said shop keepers and tradesmen involved had organized and would take a positive stand against at least two of the three ordinances now pending, and would seek amendments to the third.
Caught between the fender and revolving track of a caterpillar tractor, Andy Reckman, 18, of Grass Valley last night was brought to the Mid-Columbia hospital where an emergency operation was performed. Reckman, driving a gang-plow on the Reckman ranch, jumped from his tractor while it was still moving, to adjust the plow blades. In stepping back onto the tractor he missed his footing and was thrown between the fender and revolving track.
100 years ago – 1917
"We are living in a state that still has roads that are sheeptrails. If anyone doubts this, come to me and I will spare my valuable time and show them. Come either with horse, auto or wheelbarrow and I will use the same and would like to have you follow me.
I don't wish to kick or knock at Oregon, but I have lived on the main road between Hood River and The Dalles for the past nine years. Our roads today are in poorer condition than they were 10 years ago. Let us vote the bonds, pull us poor, deserving farmers out of the mud – build roads. I do not care where you build them, but I wish the tax on autos were triple." – Arthur Kuhnh, Mosier, Oregon.
DETROIT, May 28. – Accused of treason in connection of an alleged nationwide anti-conscription plot, five Detroiters were arrested today. The specific offense for which they were held is distribution of handbills bearing the caption "Kill the draft," and announcing a socialist mass meeting to this end for June 3.
WASHINGTON, May 28. – Bread is the price of international peace in Europe. "The size of the loaf will depend absolutely on what can be secured from the North American continent," said Herbert Hoover, the American food administrator.
Hoover said the allies require 500,000,000 bushels of wheat from the next harvest. With this appeal, the house and senate are working on the Gore-Lever food bill which provides a general food survey as a means of stimulating production.
More like this story
Latest stories
Latest video:
Mosier oil train fire
Clips from oil train fire in Mosier, Friday, June 3, 2016. by Mark B. Gibson/The Dalles Chronicle. Enlarge