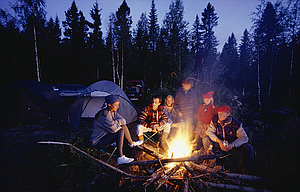 PORTLAND — Memorial Day weekend typically marks the beginning of summer recreation season in the Pacific Northwest.
While the nation pauses to remember its fallen service members on Monday, May 29, many Americans will also spend this weekend enjoying their freedom by visiting national forests, parks, wild and scenic rivers, and grasslands.
The U.S. Forest Service urges recreationists to remember these things during the upcoming weekend:
• Protect and conserve national resources by observing "leave no trace" protocols and clean up after yourself.
• Many higher elevation campgrounds and trails are still covered in snow. Some Pacific Northwest campgrounds have delayed opening for the season due to existing snow. Keep in mind that there may be higher demand for fewer campsites this weekend.
• Road conditions may be poor in due to washouts, slides, or fallen limbs — especially in remote areas. Observe posted signage but do not rely on all obstructions to be marked. Reduce your speed to below posted limits, do not bypass or remove barricades, and use caution at all times.
• Creeks and streams may be running high, as warmer outside temperatures melt the snow.
• Water temperatures may also be extremely cold due to snow melt. Stream crossings may be dangerous and swimming in frigid waters can result in hypothermia.
• Due to winter storms, many trails will not have been cleared and many may be impassable due to slides or fallen trees.
• Carry mosquito repellent. Biting insects, including mosquitoes and ticks, are always out.
• Make sure to put campfires completely out. Although things look lush and green, smoldering embers are still a hazard.
• As always, pack it in and pack it out.
• Check with the local Forest Service office or web page for current conditions and campground openings or closures.
General recreation information may be found at: https://www.fs.usda.gov/main/r6/recreation.
• Remember that many Forest Service recreation sites require a fee. Not sure what pass to buy? Recreation Pass information and purchase options may be found at: https://www.fs.usda.gov/main/r6/passes-permits/recreation.
To find a forest near you, visit https://fs.fs.us-da.gov.
More like this story
Latest stories
Latest video:
Mosier oil train fire
Clips from oil train fire in Mosier, Friday, June 3, 2016. by Mark B. Gibson/The Dalles Chronicle. Enlarge