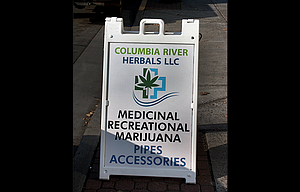 The Dalles City Council rejected a proposal Monday to change its new marijuana ordinance to allow stores within 500 feet of each other, rather than adhering to the existing 1,000 foot-buffer.
The ordinance as it stands potentially threatens the closure of an active business.
In March, when Columbia River Herbals opened a new store at the former Arby's restaurant at 2630 W. Sixth Street, and High Mountain Recreational did the same at 2722 W. Second Street, the two businesses were significantly less than the required 1,000 feet away from each other.
During the May 22 meeting, Planning Director Steve Harris recommended that marijuana shops be sited a minimum of 500 feet apart after going through a conditional use permit process. That approach was intended to ensure that both existing businesses could continue to operate within the city's rules.
After discussion, however, members of the city council voted 4-1 against that recommendation.
City Attorney Gene Parker pointed out that High Mountain is not in violation because the business was first to receive its license from the Oregon Liquor Control Commission, which oversees businesses that sell marijuana in the state.
"Our position is that they are legal, so they would not be required to file a conditional use permit," Parker said. "The key point is when the business was registered with OLCC. High Mountain got there first. That's our position."
That leaves Columbia Herbals out of compliance. The shop's owner, Norm Brock, attended Monday's hearing on the proposed change to the marijuana ordinance and presented his case to the council.
"Any violation of the ordinance is a direct result of the city planning department's error, not the relevant business owners," he testified.
He said a city planning department employee told him that his application was the first to be submitted.
He said former Planning Director Richard Gassman and Senior Planner Dawn Hert confirmed that there were no conflicts they were aware of regarding his planned shop at 2630 W. Sixth Street.
Brock offered the council members a proposed resolution of the situation.
"During the initial planning commission meeting regarding this issue, it was proposed by commissioners Jeff Stiles and Chris Zukin that both locations be 'grandfathered in' and no changes be made to the land use and development ordinance. This seems like the best and most logical solution," Brock explained. "A moratorium could be established to prevent additional recreational retailers from applying or obtaining approval.
"A cap on the number of recreational retailers could also be established to prevent additional business from opening unless one of the existing retailers closes."
City Councilor Timothy McGlothlin pointed out that the laws governing marijuana businesses in the state are new, and there has been a steep learning curve in addition to some alterations in state laws regarding pot stores.
"This is new territory, and the rules are fluid," McGlothlin said. "We're trying to work things out and find some fairness. We're still in limbo here trying to correct some misperceptions and come back now and make this right."
City Councilor Russ Brown, who filed a formal complaint with the city in April because the two marijuana retailers were within 1,000 feet of each other and no enforcement efforts were pursued, made the motion to decline the revised ordinance.
Following the vote, McGlothlin wanted to know what would happen next.
"Is there a violation?" he asked. "Will one business have to close its doors until this is resolved? We don't want to create hardships on businesses, and it affects employees."
Mayor Steve Lawrence wondered if "grandfathering" could be applied in the case of Columbia River Herbals.
"The question I have, is there a way within land use law to grandfather somebody in?" Lawrence asked.
After the meeting, Brown said he anticipated a resolution would be coming soon.
"I'm hopeful it can be resolved without going to court," Brown said. "I don't think the council wants to change the 1,000-foot rule, because there's nothing wrong with it, in my opinion.
"I think some mistakes were made in the process. I think what the council would like to see happen is that this gets taken care of at the staff level."
More like this story
Latest stories
Latest video:
Mosier oil train fire
Clips from oil train fire in Mosier, Friday, June 3, 2016. by Mark B. Gibson/The Dalles Chronicle. Enlarge