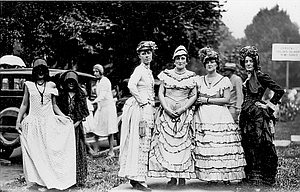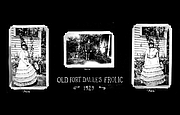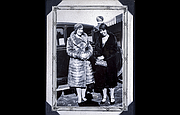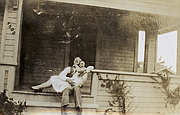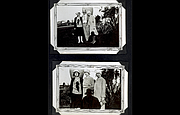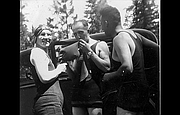 The other day Steve Gifford was watching an old barn get torn down across the road from him on East 18th Street, and he saw an old, musty photo album on the ground, ready to be scooped up by the backhoe.
He rescued the album and passed it off to the Chronicle. "I hope the family is still around and maybe the kids or grandkids can enjoy them," he said.
Inside the album was a clue. The owner had neatly penned her name: Ada C. Elton.
One phone call and a day or so later, Travis Elton was at the Chronicle to take a gander at the album. It had belonged to a woman who was married to his grandfather's cousin, he said.
He perused the photos, on loose pages and laid out on a back counter in the Chronicle newsroom. "Oh my God! This is so cool! Look, Camp Sherman," he said of one of the photos, which was captioned with the location. "We camped there when I was a kid. It's cool to see it in the 30s."
He saw a photo taken at another familiar family haunt, Metolius, and joked that the family hadn't developed much variety over the generations in terms of vacation spots.
Of another photo he commented, "Quite the bathing suits there. Not a Speedo."
Though the photo album covers the depths of the Great Depression, with photos dated from 1929 through 1932, Ada Elton was apparently well-heeled and well-traveled, visiting California and Canada as well as the family's ongoing favorite regional destinations.
Soon Travis Elton called his dad, Ron Elton, to come down. Ron didn't recognize anyone in the photos, and suspected they were from Ada's side of the family. "That's the problem with family photos. After awhile, they don't mean much."
He spotted a program from a military event. "Good grief, 1917," he said. The century-old program was titled "Christmas, 1917: 108th Company, 8th Regiment United States Marines."
Eugene A. Elton is listed as a private in the program.
The album was complete when Gifford retrieved it, but the pins holding it together had failed, and it was now a stack of loose pages. About half the large, rectangular black pages are blank, but the rest are covered with photos, all neatly captioned in white writing. She doodled little filigrees in some spots to decorate blank spaces.
"Somebody went to a lot of work to put this together, I can tell you that," Ron Elton said. "Look at these dresses, my gosh."
He was looking at photos from an event Ada described as the "Old Fort Dalles Frolic, 1929." It was basically people from a bygone era dressing up as people from an even more bygone era.
"There's a picture at the head of the Metolius," Ron said to Travis after viewing another travel photo. "Look, 'Headwaters of the Metolius.'"
Stored in the album are a pair of pressed flowers, safely tucked in wax paper. Also tucked away was a belated birthday card, featuring a caricature of a little black boy, with text that would certainly raise eyebrows today but was utterly ordinary decades ago.
It stated, "Ah jes rushed ma po fool head off 'cause ah knowed ah's kinda late." Inside, it concluded, "so heah's yo' birfday greetin's though ah's c'llapsed right at yo' gate!"
Some photos show well-heeled women in fur coats and long strands of pearls, wearing the fashionable Cloche hat — a bell-shaped, tall hat that sat so low on the brow as to almost obscure the eyes.
Others show ladies with their hair in the smooth, sculpted waves, known as Marcel waves, that also defined that era.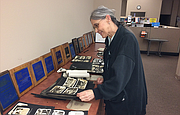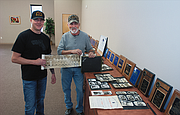 Soon, Ron called his sister, Diane Elton-Cates, who is the family historian. She made it down to the Chronicle and fizzed with excitement at the discovery.
Ada Elton, married to Eugene Albert Elton, was born in Missouri and had been married twice. "She's the wife of our first cousin, twice removed," Diane said.
According to the 1930 census, Ada lived at 1803 Jackson Street in Thompson Addition in The Dalles, Diane said. Then she pointed excitedly to a photo, showing Ada in front of a house with the house number, 1803, visible.
She later learned that 1803 Jackson St. is now 1803 E. Ninth Street. How the photo album got from East Ninth to East 18th Street is a mystery.
She also learned that Ada had no children.
The Eltons are a pioneer family in the county, with connections to numerous other pioneer families, including the Lashes, the Tibbets, the Polehns and the Spickermans.
As she looked through the photos, she said it was "such a pity" that they didn't stay with the family. She said, "Thank you so much for contacting us. This is like a treasure trove!"
One striking find is a four-foot long photo featuring The Dalles American Legion band. "My dad was in the band, but that's not my dad," she said of the person listed only as "Elton" in the band photo.
As she looked at the faces in the photos, she added, "I wish my dad was still alive."
In one photo, labeled "the whole family," Diane peered closely at it, and said, "Now who is this? She looks familiar."
Diane took the musty, dusty album home, and plans to do more research.
Gifford, who turned the album over to the newspaper, was glad it found a home.
He's also the genealogist in his family. "That's why this is so interesting to me. Here's something that really means something."
More like this story
Latest stories
Latest video:
Mosier oil train fire
Clips from oil train fire in Mosier, Friday, June 3, 2016. by Mark B. Gibson/The Dalles Chronicle. Enlarge